Advent and Christmas Worship at Trinity Lutheran
Each year, Trinity sets aside special times for our church family to gather together for worship. This allows us the opportunity to stay focused on the true source of life, love, hope, and faith – Jesus Christ our Lord. For many people, attending a service that's "not on Sunday morning" is a new thing. If you've never experienced one of our mid-week Advent services, or even one of our Christmas services, we invite you to "check it out" this year.
-Pastor Ken, Pastor Brian, Pastor Gary and Paul Finazzo
Sunday Advent Worship Preaching Series "Do you hear what..."
Sundays in Advent : Dec. 3, 10, and 17
What are we hearing this Advent/Christmas season? From whom are we hearing? What words, voices, and messages are filling our ears, hearts, and minds? Are we primarily hearing the cultural message(s) of the season or are we hearing the same message that God shared with us long ago? Join us during the Advent/Christmas season as we hear what John, Mary, Joseph and the shepherds heard long ago.
Dec. 3—Do you hear what. . . .John heard?
Dec. 10—Do you hear what. . . .Mary heard?
Dec. 17—Do you hear what. . . . Joseph heard?
Dec. 24/25—Do you hear what. . . .The Shepherds heard?

Early Childhood Christmas Program
Dec. 3, 4 p.m.
Join us in the school gym for the cutest concert on Earth! Christmas songs and Finger Plays will be performed by the Early Childhood Singers, with refreshments following the concert.
Mid-Week Advent Worship
Advent Worship in the Chapel
Wednesdays, Dec. 6, 13, and 20 at noon
A Traditional Advent Worship in the Chapel: The service is about 30 minutes in length and focuses our attention on our soon coming King! This is a great opportunity, if you work close enough to Trinity, or have flexibility in your schedule, to take a few moments in the middle of the day to spend some time with God. Come and join us.
Blue Christmas
Wednesday, Dec. 6, 7 p.m.
A Blue Christmas Blue Christmas is intended for those who have experienced a significant "loss" in their life (loved one, job, home, hope) and are seeking the hope and comfort of Immanuel – "God with us." Anyone is welcome. If you know of someone who has experienced a significant loss, consider inviting them to this special service.
Advent Vespers & Prayer Service
Wednesday, Dec. 13, 7 p.m.
This is a reflective, candlelight service designed to help worshipers spend time with Jesus in scripture, prayer, repetitive song (Taize), and quiet times as we focus on Christ our Savior/King. We will also take time to pray for the sick and to anoint them with oil in keeping with James 5:14. A fellowship time will take place immediately following the service.
Trinity School Christmas Program
Wednesday, Dec. 20, 7 p.m.
Join us as our school children help us focus on the true meaning of the Advent/Christmas season.
Christmas Worship
**Please Note: Christmas Eve is a Sunday this year. We WILL NOT be having our usual Saturday (5p.m.) or Sunday (8 or 11 a.m.) services this weekend. We WILL be having our special Christmas Eve and Christmas Day schedule.
Family Christmas
Christmas Eve, 4 p.m.
An interactive worship service designed for families – young and old, celebrating the cosmic and beautiful message of Christmas.
Candlelight Worship
Christmas Eve, 7 p.m. and 11 p.m.
A Candlelight service celebrating the miracle and mystery of Christ's birth - complete with choir and orchestra.
Christmas Day Worship
Christmas Day, 10 a.m.
Christmas Festival Worship with choir, brass, and Holy Communion.
New Year's Worship
**Please Note: New Year's Eve is on a Sunday this year. We WILL have our usual weekend worship schedule with services Saturday at 5 p.m. and Sunday at 8 a.m. and 11 a.m. There will be NO evening New Year's Eve Service. Begin the New Year with us at one of our weekend worship services. As we kick-off the New Year, we will be celebrating the Lord's Supper together at all of our services.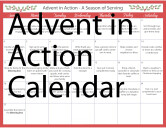 Advent in Action
A Season of Serving
At Trinity, our mission is to form fully devoted followers of Jesus Christ. We do this as we Engage God, Engage God's People, and Engage the World. This Advent/Christmas season, we are providing you with a simple way to do this through our "Advent in Action" Calendar.
Each day, our hope is that you'll do two things.
Engage God by listening to the daily Crosstalk Advent Devotion, available through email, iTunes, Google Play or at Trinityct.org/crosstalk
Engage the World by using the "serving suggestion" listed on the Advent in Action calendar (or your own idea) as a way to bless others. Keep in mind that some suggestions may require advanced preparation.
Let's work together to make Advent a
"Season of Serving."