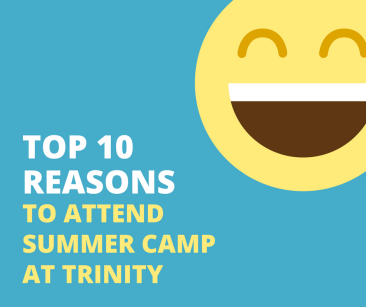 Trinity's Summer Camp is a whole lot more than day care. The camp, with uniquely designed theme weeks, is for all children in kindergarten through sixth grade. There are lots of activities, fun and the chance to make long-lasting friendships.
There are plenty of reasons to attend Trinity's Summer Camps. The low cost $110 per week makes it an affordable option for working parents who need daily childcare and non-working parents who want to enrich their child's summer.
What about the kids? Why do they like Trinity's Summer Camp. We asked several of last year's campers, and here were their top ten reasons to attend Trinity's Summer Camp (in no particular order):
1. The game room, specifically playing Monopoly. - Jakob
2. The large group gatherings in the big gym where the campers sing and dance together. - Morgan
3. Water Wednesdays. There are plenty of outside water-based activities. - Too many to list.
4. Playing Dodge Ball - Jack
5. Making fun projects, like the cactus project from last year. - Annabelle
6. Hanging out with friends. - Too many to list
7. Playing in the Lego room. - Noah
8. The counselors. - Alivia
9. The variety of activities offered to the kids each day. -Hayden
10. Slip and Slide kickball - Max
For more information on the Summer Camps at Trinity, visit the Summer Camps website or contact Jeremy Ashley at 586-463-8803.