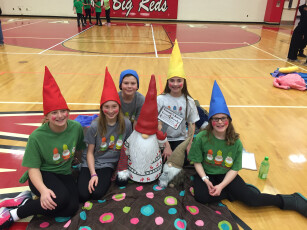 Fifth graders Samantha and Allison teamed up with students from Lobbestael Elementary School in Harrison Township to participate in the Clinton Macomb Library Battle of the Books on March 11. The girls' and their teammates placed second in the book competition and first for their costumes.
For the competition, the teams had to read 12 books, which was split between the teammates, and answer questions about the books, answering each in 30 seconds and including book title and author. This year, they read, "The One and Only Ivan" by Katherine Applegate, "One Dead Spy" by Nathan Hale, "The View from Saturday" by E.L. Konigsburg, "Lawn Boy" by Gary Paulsen, "The Best Man" by Richard Peck, "Towers Falling" by Jewell Parker Rhodes, "Harry Potter and the Sorcerer's Stone" by J.K. Rowling, "Knucklehead" by Jon Scieszka, "When You Reach Me" by Rebecca Stead, "Three Times Lucky" by Sheila Turnage, "Brown Girl Dreaming" by Jacqueline Woodson, and "Breaking Stalin's Nose" by Eugene Yelchin
The team of five students called themselves Gnomes Know Best. They wore costumes that included red cheeks and gnome hats. Their costumes won first place in that portion of the contest.
After the competition was over, Gnomes Know Best was in third place, but thought they had enough points for second. While they were disappointed they hadn't done better, they we happy with their first place for costumes and third place for book knowledge.
"We got home and my mom had a message that said they miscounted and we actually had taken second place," said Samantha.
The team was even more excited to learn they had done better.
The team had several practices in advance of the competition. They competed against 19 other teams from around the area.
"It was fun! It's not about winning all the time. We had fun in practices and in the competition," said Allison.