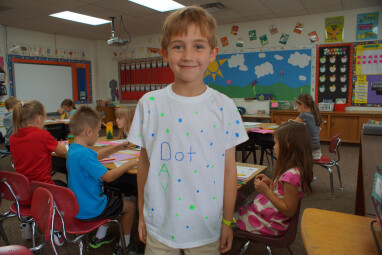 The first graders made their mark on International Dot Day on Sept. 15.
Dot Day is a global celebration based on the Peter H. Reynold's book, The Dot.
The Dot is the story of a caring teacher who dares a doubting student to trust in her own abilities by being brave enough to make her mark. It all starts with a dot on a piece of paper. The dot turns into so much more--including a breakthrough of confidence and courage.
First grade teacher Emilie Howe celebrated International Dot Day with her class. Students created dot art, did dot-to-dot activities and met up with the eighth grade class to learn about Pointillism (artwork made entirely of dots). They even snacked on dot cookies made by a classroom mother.
"Dot Day gives the children a chance to explore their creativity and see that so much can come from one little dot," said Howe.
Other classes got in on the dot fun as well. They created lots of dot art with lower grade art teacher Michele Laskowski. The artwork is hanging in the school hallway.
To see more pictures of the first grade Dot Day, check out our Facebook album.