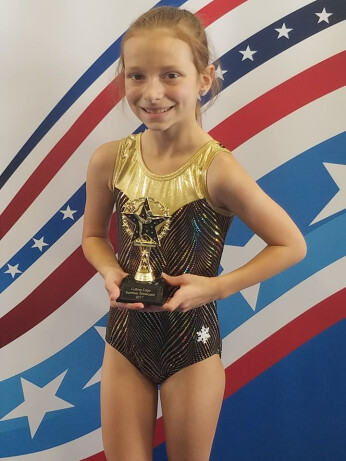 Alexis Federlein finished fifth grade on Friday, June 7 and kicked off her summer by participating her gymnastics summer showcase.
"We did all of our routines. I did beam, floor bars and vault," said Federlein. "We've been practicing really hard and conditioning for a while."
Federlein participates in the elite gymnastic classes at Cutting Edge Athletics. She said she's been doing gymnastics since she was 2 or 3 years old.
While she thinks the trampoline portion of her gymnastics training is fun, Federlein said she also really enjoys the uneven parallel bars and the routines she does on them.
Federlein practices about three hours per week throughout the year. She said she enjoys gymnastics at this level and hopes to participate for several more years.
What are you doing this summer? Are you doing something exciting or fun? How are you using your God-given talents? Share your story with us and maybe we will feature you, too!