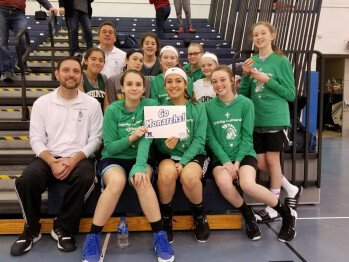 The girls varsity basketball team had a busy weekend. After a game, and a loss, at Our Shepherd Birmingham on Friday, they practiced at Macomb Community College on Saturday.
According to Coach Todd Burek, the girls were the guests of Macomb Community College Head Women's Basketball Coach Jay Ritchie. He held a private practice for the Trinity girls team. He conducted the practice and gave useful feedback and tips.
Afterward, the girls sat in on the Macomb Community College women's basketball team's all-team, pre-game meeting and activities. They had the opportunity to stay and watch the Lady Monarchs take on Schoolcraft College. The team had a great game, defeating Schoolcraft 68-41.
At half-time of the game, Trinity's team put their practice with Ritchie to work as they had an intrasquad scrimmage.
"We are appreciative of the coaching staff at Macomb Community College, especially Coach Ritchie for taking the time to meet with our team," said Burek. "It was a unique and exciting opportunity for the girls."
Burek also thanked Trinity parent Wendy Kohlmann for all of her work arranging the meeting.