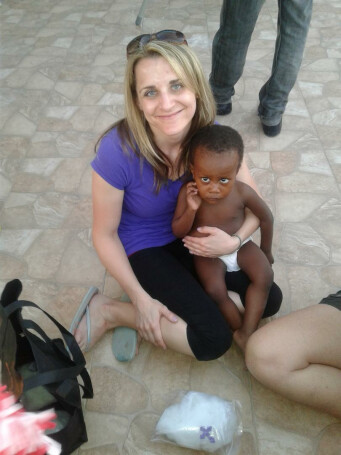 Trinity member Alyssa Voiland went to Haiti in February as part of a mission trip with members of several local churches. She said the trip made a profound impact on her life. Using the words of another mission team member, Voiland said she felt "incredible joy, intense poverty, unique culture and a powerful God."
Months after the trip, Voiland has unpacked her luggage, but she's still unpacking her experiences.
"My favorite part of the trip was seeing the joy and gratefulness in the Haitians lives that we touched. I could absolutely see God's hands at work in Haiti. It opened my eyes, and I didn't even realize they were closed," Voiland said. "I loved the kids' faces when we would give them candy. I loved the hugs from the orphans at Gertrude's orphanage (the place where the team stayed) when we would return from a long day of work."
Preparing for the trip, led by local couple Kim and Keith Waller, Voiland said she had no idea what to expect. She planned to go to Haiti as part of a group in April 2018, but the trip was canceled. With just a few weeks notice, Voiland was asked to move her trip to February 2018.
"I felt the Lord was working on my heart and moving me in a direction to participate in a mission trip to Haiti. I was instantly touched by the stories and pictures the Wallers presented. Prior to this, I felt God was leading me in this direction of service and this felt like the doors were opening for me," Voiland said.
The Wallers, who have 15 years of experience serving in Haiti, met with Voiland prior to the trip and discussed some of the things she would come across serving in Haiti. However, she said being in Haiti was something else entirely.
"I knew that Haiti was a very impoverish country, but it was even beyond my furthest imagination. I knew it was going to be hot ad dirty, but seeing the streets full of garbage and animals just roaming about was something I didn't anticipate," said Voiland. She added that the people there seemed desperate for work.
The team got to work immediately. They spent several days working on building a church and assisting with the cement work.
"In Haiti, there are no cement mixers. Everything is done by hand. It takes tremendous amounts of teamwork," Voiland said.
The team was in Haiti for seven days and did a lot of work. Besides working on the church, the team also visited multiple orphanages and the Mother Theresa Hospital. They played with the children and did crafts with them. Throughout the week, the team also distributed food, hygiene items and school supplies.
"The people there are hungry and thankful for a bag of rice and beans," Voiland said.
The teams stayed in a guest house above an orphanage run by a Haitian woman named Gertrude. Voiland said Gertrude takes in children with special needs and provides them with love, respect and dignity. The interaction she had with those children was something she said she will never forget.
"There is, of course, some fear in the unknown and going to a country that has dangerous areas. But, I felt at all times God was walking alongside me in this journey and if something happened, I knew God had that too," Voiland said. She said she also became friends with her 17 mission teammates and learned to rely on them for emotional support as well.
The experience was so moving for Voiland that she said she wants to go back.
"It is happening a little sooner than I had originally anticipated, but God know what He is doing. I will be returning in June 2018 to Haiti with the same leaders but a new group. I'm also excited because my niece, Grace, will be joining me on this trip," Voiland said.