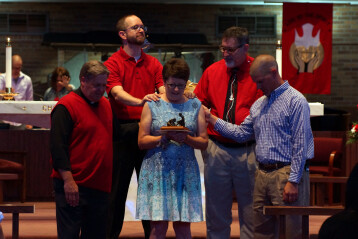 On Sunday, June 4, Trinity recognized third-grade teacher Joanne Brown on the occasion of her retirement. Brown was recognized during both church services Sunday morning, honored during a coffee hour between services and celebrated with her family and friends at a luncheon held after the services.
During the luncheon teachers Sally Buss and Sharon Meseke told stories of their friend and wished her well on her retirement. Former student Grant Drzyzga spoke fondly of his third-grade memories, memory work and the classroom reading loft in Brown's room.
Another alumnus, Nicole Demopoulos talked about how Brown solidified her desire to become a teacher. She said the things that Brown taught her in the classroom were more than just math facts and writing skills. She said she learned about being a teacher.
Ben Brown, Brown's son, spoke about his mom and a mother and the lasting impact she made on her students. He was followed by his father, David, who praised his wife as a mother, wife, teacher and follower of Jesus.
There was even a surprise visit from the cowboy reenactor that Brown used each year in her classroom during Wild West Week. He thanked her for his time with her and gave her a cowboy bust to remember him.
The Trinity staff, parents and students worked together to provide food, decorations and memories for Brown's retirement celebration.
To see more pictures from the retirement celebration, visit our Facebook page photo album.