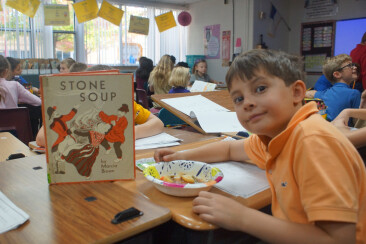 The second graders recently dined on Stone Soup as a lesson in both mixtures and also as they look at the theme of the book "Stone Soup," by Jon Muth.
The students combined the ingredients, including potatoes, onion, carrots, celery, zucchini, garlic, parsley and thyme. They also added salt, ground pepper, basil, oregano and bay leaves. The soup simmered in a Crock Pot in their classroom before they examined it.
A mixture, which is made up of two or more substances, has physical properties that differentiate it from a solution. Using the soup, second grade teacher Jamie McMahon was able to show the students those properties and the physical changes.
It worked out well as the class had also read "Stone Soup" and they had the chance to try it. In the book, hungry strangers convince the townspeople to share a small amount of their food in order to create one meal that everyone can enjoy.
Second grader Jack said really enjoyed the soup.
"I liked it so much that I got the recipe to take home," Jack said.
To see more pictures, visit our Facebook photo album.