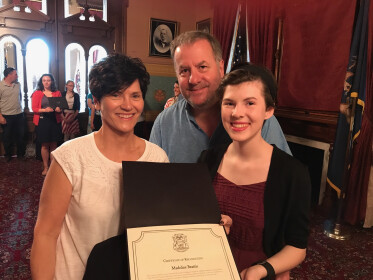 Several week ago, eighth grader Maddie Beattie placed 10th in the state in the Michigan Hero Essay Contest sponsored by the Farm Bureau Insurance Company. On Wednesday, May 17 she visited Lansing to participate in the award festivities.
"Most eighth graders throughout Michigan participate in the Michigan Hero Essay Contest," said eighth grader teacher Sally Buss. "It is absolutely spectacular to place in the top ten."
Maddie received her award from the Governor's Director of Strategic Planning in the Capitol. She also participated in a pre-game ceremony at the Lansing Lugnuts baseball game and was honored during a riverboat cruise luncheon. For her work, Maddie also received a personalized plaque, medallion and a $1,000 award.
Maddie was accompanied to the recognition celebration with her parents as well as her teacher, Mrs. Buss.