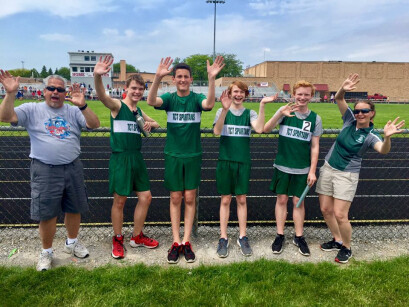 The Michigan Lutheran schools state track meet was held at Frankenmuth High School on Saturday, June 3. Student-qualifiers from around the state were present to compete for state titles and their personal best records.
"The state qualifiers all did a great job at the state track meet. They had fantastic weather and results. Mr. Anders and I are super proud of all of them," said Coach Katie Erkkinen.
State qualifiers included Lily David, Jacob Kment, Marah Erkkinen, Ava McParland, Elliot Ashley, Lydia Wade, Evan Smith, Jackson Siersma, Ethan Erkkinen, Steven Adams, Colvin Smith, Adam Manis, and Christian Burek.

A special congratulations to Elliot Ashley who earned a seventh place medal in shot put and an eighth place medal in the 400-meter dash.

There were several athletes who achieved their personal records at the meet:

Marah Erkkinen, shot put--20' 1.5"

Elliot Ashley, 400-meter dash--1:11.82

Christian Burek, long jump--15'

4x200-meter relay team (Jackson Siersma, Ethan Erkkinen, Colvin Smith, Steven Adams--2:00.76

4x400-meter relay team (Adam Manis, Evan Smith, Christian Burek, Colvin Smith--4:29.14

Colvin Smith, 400-meter dash--1:04.17
"This was a really fun season and the whole team put in a lot of work. We're looking forward to doing it again next year," said Erkkinen.