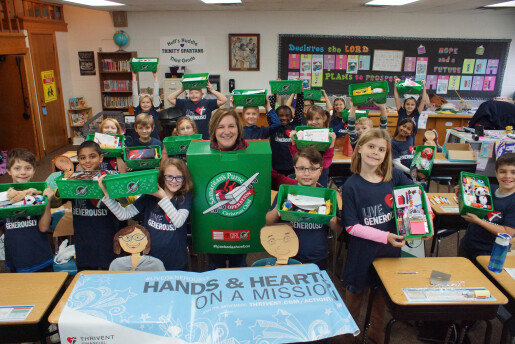 Trinity's third grade students packed boxes for Operation Christmas Child on Thursday, Nov. 16 and the boxes are now on their way to children across the world who might not otherwise receive a Christmas gift.
The boxes, which were purchased and shipped using money from a Thrivent Financial Action Team, were packed with tooth brushes, tooth paste, soap, small toys, a small stuffed animal, crayons, notebooks, Play Doh and other items that students bought and brought for the project.
Third grade teacher Catha Huff has been sending boxes to Operation Christmas Child for years and was excited to participate in the project with her third grade students.
"It warms my heart to see their compassion for needy kids around the world. This project goes beyond the walls of Trinity, beyond our neighborhood and gives them a chance to Engage the World as third graders," said Huff.
Using the Thrivent Action Team, Huff's class will also track the boxes to find out where each box travels.
Students packed the boxes with the items and then spent time sharing with a partner the items they put in the box. Then, they took turns praying over the boxes.
To see more pictures of the students packing their boxes, visit our Facebook photo album.