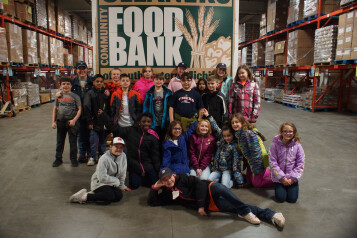 Each month, a class from Trinity heads to Gleaners Food Bank to help with the Kids Helping Kids program. In recent months, students have sorted cans and bagged food to be put in the backpacks of needy kids in Southeast Michigan. When the third graders visited Gleaners on March 28, they helped bag up potatoes.
The students arrived at Gleaners and learned about the work the organization does for the community. They also got a quick tour of the facility before heading to the warehouse to pack 5-pound bags of potatoes.
The class of 21 worked for about two hours to pack 600 bags of potatoes that will be handed out to the hungry in the community. The 600 bags of potatoes was equal to about 3,000 lbs.
The students and chaperones sorted through large bags of potatoes, weeding out those that were soft or molding and creating the 5-pound bags from the healthy potatoes. They worked in teams to sort, bag, tie and place the potatoes into boxes that will be used for distribution.
The third grade is the most recent class to visit Gleaners. This year, every class from kindergarten through eighth grade will take an afternoon to serve at Gleaners.
To see more pictures from the third grade's trip to Gleaners, see our Facebook album.