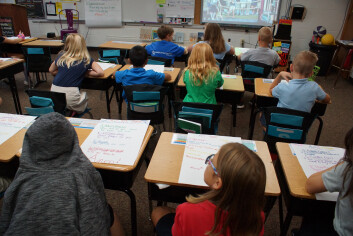 Part of forming full devoted followers of Jesus Christ means teaching the followers to Engage God through prayer. Catha Huff, third grade teacher at Trinity, recently taught her class to pray using the ACTS method.
The students follow the word ACTS to guide their prayer. A stands for adore, or praise God. The students wrote things like "I praise you because you are a fortress." They followed into C, or Confess, which is when the students proclaim their sins to God. The T stands for Thanks. The students gave thanks to God for his boundless gifts to them. S stands for supplication, which is to ask God for something.
Huff told the students that often prayer becomes all about asking and through the ACTS praying method, they can give God the glory he deserves.
Once the class had learned the ACTS prayer method, Huff had each write their own prayer. They then shared those prayers with their classmates.
To see more pictures of the students presenting their ACTS prayers, visit our Facebook gallery.