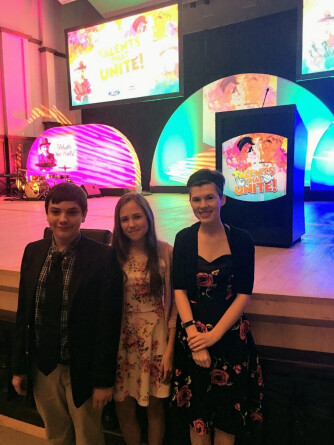 Trinity was well-represented at the Ford Freedom Awards at the Max. M. Fisher Music Center in Detroit on May 23. Eighth graders Madisyn Link, Jackson Huff and Maddie Beattie were finalists in the essay contest and each received an award during the ceremony. Link took third place and received a $1,000 scholarship, Huff received an honorable mention award and $500 scholarship and Beattie received a challenge grant to help her bring project to life.
More than 1,700 students from across the state participated in the essay contest centered around the theme "Passion." The students' essays explained how they could use their passions to bring people together. The finalists were invited to defend and answer questions about their paper at The Detroit Free Press building the week before the awards.
"We had to read our paper to a panel of judges and we had to answer a bunch of questions from them," said Huff, who wrote his essay about education and faith.
Link wrote about faith and Beattie wrote about art. During the awards ceremony on Tuesday, May 23, they learned how they finished.
"I thought I would do well, but not as well as I did," said Link, who said she was stunned with her award.
Beattie's Challenge Grant award was also a surprise to her.
"The Challenge Grant is a away to make my idea come to life. I wrote about a collaborative mural. The Museum of African American History is going to help with that process. I'll be assigned a mentor and it will be placed somewhere pretty visible," said Beattie.
Eighth grade teacher Sally Buss was proud of all her students, but especially the work of the finalists. No other school had multiple award recipients.
"I'm proud of the work all of the students put into these essays. They pushed themselves creatively and took the process very seriously. Madisyn, Jackson and Mattie are very deserving of their awards," said Buss.
Ford Motor Company, in collaboration with the Charles H. Wright Museum of African American History and Detroit Newspapers in Education, hosted the contest for students in grades 4-8.