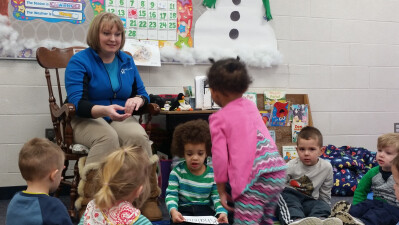 Nicole Demopoulos has called Trinity home for most of her life. A student from 1993-2003, Demopoulos returned to Trinity in 2007 to work. She's been serving in different capacities since then and is now the lead Transition Room teacher in the Early Childhood Center.
"Trinity is and forever will be my family," Demopoulos said. "Trinity is where I grew up and where I really learned Christ's love and passion for His children."
While a student, Dempoulos said she was drawn to language arts and one of her favorite teachers was Joanne Brown.
"Mrs. Brown was probably the most memorable teacher for me. I was her first class at Trinity and she had a different way of teaching things that before were uninteresting or I had never even ventured into learning," Demopoulos said. She said she enjoyed the third grade Spanish Christmas celebration and poinsettia decorations, all of which were led by Brown's artistic and musical talents. "She made learning fun and gave me another reason to become a teacher as an adult."
After graduating from Trinity, Demopoulos moved on to Lutheran High School North, where she was a student-athlete and also held down a part-time hostess job at a local restaurant. She attended Central Michigan University and Oakland University for a Bachelor of Elementary Education, which she earned in 2013.
Demopoulos held various positions in the Early Childhood Center throughout college and took a more permanent position in the preschool 3 room with Kim Walker.
"She helped me see that teaching was my passion, no matter what the age," said Demopoulos. She was later hired for the transition room lead teacher position. "I was so glad to be offered the chance to learn with and teach children of all ages at the center. I'm so glad I get to be a sculptor of God's love and I am committed to building the faith foundation for each of my students."
Demopoulos has also brought the second generation of children to Trinity. Her one-year-old daughter is in the infant room in the Early Childhood Center. Additionally, her mother, Sarah Howard, works in the school office.
"I love being close to the family I grew up with; my husband and I cannot wait to raise our daughter with this family that raised me so well," said Demopoulos.
She's not just here during the workweek. Demopoulos and her family also attend church at Trinity.
"I enjoy that I get to see my faith family surround me at all time. All the people that surround me, and my family, on a daily basis, is what keeps us coming back to Trinity. Everyone knows everyone and everyone cares about everyone like they are family. After all, we are all brothers and sisters in Christ," said Demopoulos.