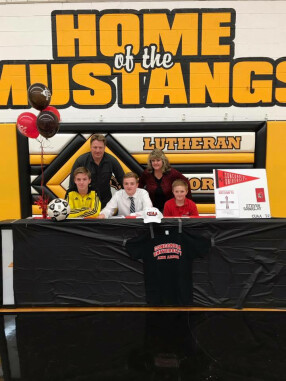 Steven Soboslay, a Lutheran North senior and Trinity graduate, has been playing soccer for most of his life. He will soon take his skills to a new field--one at Concordia Ann Arbor, where he will be studying finance and playing soccer for the Concordia Cardinals.
After considering other schools such as Northwood University, Albion, Findlay University and Concordia in Wisconsin, Soboslay signed with Concordia University in December 2017.
"It means a lot to me that I will be attending a Lutheran college because I want to keep growing in my faith and to be surrounded by a Lutheran campus," said Soboslay. "I never thought I would be going to a Lutheran college until recently when I had to start thinking about my future and what I wanted."
Soboslay's parents are both Lutheran High North graduates and are excited that their son chose to continue his Lutheran education.
"We both graduated from LHN and feel blessed that we have been able to send our children where we went to high school and met ourselves," said his mom, Marilyn Soboslay. After graduation, she attended Eastern Michigan, while her husband went to Michigan Tech. They both wanted a bigger college feel. "Steven however, wanted the same small and cozy feeling that LHN has given him. He originally narrowed his list of colleges to Albion, Ohio Northern, Northwood and Concordia Ann Arbor. He was offered the opportunity to play soccer at these schools, and they also had his major."
Marilyn said after touring Concordia Ann Arbor, her son felt at home and she was glad he'd still be nearby.
"Knowing he is going to be getting his college education on a Christian campus, has us thrilled beyond belief! Trinity Clinton Township, LHN and now Concordia in the fall.... we are loving this path he has chosen," said Marilyn.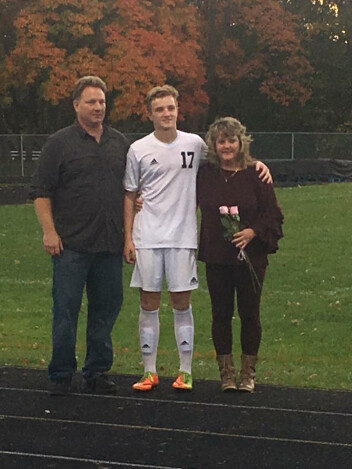 While Soboslay said he is looking forward to meeting new people and playing a game that he loves at a higher level, he said he will miss a few things, too.
"I will miss my brothers, friends, teammates and coaches," said Soboslay.
His senior season at Lutheran North was a great way to finish out his high school soccer career. He took home multiple honors including 1st Team All-Conference, 1st Team All-Regional, 1st Team All-County and 2nd Team All-State. He also served as a team captain.
The Lutheran North team placed fifth in the Catholic High School League and earned the Michigan High School Athletic Association district championship.
While he might be moving on to college, one thing he learned from Trinity is something that will stick with him--friendships.
"I learned at Trinity in eighth grade that even though your friends might go to a different school always keep those friendship if they mean a lot to you. I will be doing this soon when I go off to college."