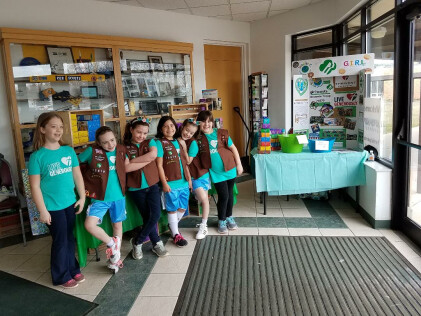 The Girl Scouts motto it to be ready. In fact, it states "Willingness to serve is not enough; you must know how to do the job well, even in an emergency." With the help of their parent leaders Xenia Woltmann and Stacey DeRidder, the Brownie Troop at Trinity is learning this lesson through practical applications and giving back to the surrounding community.
Girl Scout cookies are usually used to raise money for the individual troops, but Trinity's Brownie troop also used it as a way to give back. The troop set up a cookie donation booth during one of the Upward Basketball game days. Visitors could choose who the cookies were donated to, whether it be those serving in the military or local fire stations. They donated 24 boxes, with seven boxes going to local fire stations.
This wasn't their only community service project this year.
"As part of our World Thinking Day and Global Action Day projects, the girls decided it would be best to try and help feed people. We took a trip to Value Center, who generously agreed to provide food at cost to our troop," said Woltmann. Each troop member was given $10 to shop in the store, which allowed them to learn about budgeting their money. The food they purchased was then donated to Trinity's Food Bank.
Ella Reese, a second grader in the Brownie troop at Trinity, said she had fun picking out noodles, soups and beans to be given to the pantry.
"We had only a certain amount of money to spend so we had to be careful. We also had to find healthy food," said Ella Reese.
The troop is hoping to hold a Wigs 4 Kids fundraiser in the future. According to Woltmann, they visited the charity this year and made encouragement cards for the sick children.
In December, the Brownies visited a local nursing home and delivered hand-made ornaments to the residents.
"In meetings, we've been trying to focus on faith-based life skills, self-esteem, STEM activities, sisterhood and giving back. Our girls have strong fundamental 'legs' at home, school and church. Our intention as troop leaders is to add another leg by bringing everything together in a fun, small group," said Woltmann.
Woltmann said she and DeRidder hope the Brownie troop gives the girls a comfortable place to share struggle and overcome obstacles together, both now and in the future.
Ella Reese said the troop does a lot of work, but it's a lot of fun.
"I just like having my friends by my side and getting together with them outside of school," said Ella Reese. She said she is looking forward to going camping with the group this summer and a lot more activities in the future. "It's a lot of fun being in Girl Scouts and I love helping to make the world a better place."