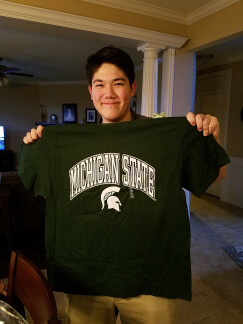 Carter Welch had never acted in a play before this year, but as the Lutheran North senior wraps up his last few weeks of high school, he will be performing the lead role in the spring show, "Shrek the Musical."
"I was just not really confident in my voice all, until my junior year. As my voice dropped, my singing voice actually started to develop. One day, I was singing in play practice and many people told me, 'you should do the fall show,'" said Welch. He started practicing and decided to perform the song "Go the Distance" from "Hercules" and got the the role of Uncle Henry in the fall production of "The Wizard of Oz."
Welch said he was not nervous about his first on-stage performance until tech week, when the students actually practiced on stage.
"I used to have horrible stage fright," said Welch. "In seventh grade, I couldn't even give a presentation to my class."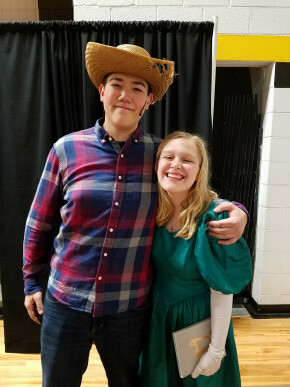 Welch said being on stage was different than he expected. He said he gets focused on the lines, delivering them well and he's not focused on the audience.
After the excitement of "The Wizard of Oz" was over, Welch focused his attention on auditions for "Shrek the Musical."
"We had auditions in late November. Never in a million years did I think I could be Shrek. When I found out that was the spring show, I began listening to it and it was within my vocal range so I was excited," Welch said.
When the cast list was posted in the hallway at school, Welch said he read that he was Shrek, but it took him until he got home to process the information.
"I was really worried about memorizing the lines," Welch said. "I've definitely had a lot of fun with it. It's still a lot of work, but I've really enjoyed it."
As a freshman, Welch never thought he'd be involved with theatre. He was in track in ninth grade and was involved in Karate. During his sophomore year, his girlfriend introduced him to the possibilities of theatre.
"I thought it looked really cool and I was really interested in it and got along with the people who were involved," said Welch. He signed up for the technical crew for theatre. He said he enjoyed working in the tech booth, coordinating everyone's microphones. Working in the tech booth, he realized he might want to perform.
During his junior year, Welch took a break from theatre to focus on a few difficult classes that he had and also to prepare for his Karate black belt testing, which he earned last year.
Next year, Welch will begin studying nursing at Michigan State University. While his course load could be demanding, Welch hopes he'll still have time for theatre.
"I think I'll definitely look into theatre programs at State," Welch said. He mentioned community theatre or a student group. "I have a decent voice for something like this, but my acting was something I really needed to work on for this part and I know I still have more to learn."
"Shrek the Musical" will be performed on April 27 at 7 p.m. and April 28 at 2 p.m. and 7 p.m. at Lutheran High North. Tickets are available at the door one hour before each show. Tickets are $10.