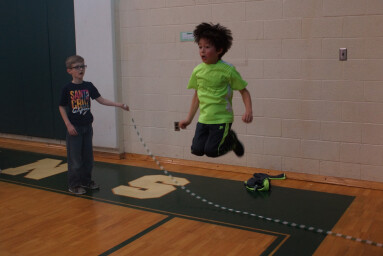 Trinity students raised $11,854 for the American Heart Association through Jump Rope for Heart and Hoops for Heart. Kindergarten through eighth graders gathered pledges and raised awareness about heart health before the events held at the school on Feb. 15 and 16.
Last year, Trinity's first year participating in Jump Rope for Heart and Hoops for Heart, the students raised just over $5,000. This year, physical education teacher Jennifer Punturiere led the students in a charge to raise $7,500 in the second year.
While every class pulled in their share of pledges, the second grade topped the school with $2,653. The fourth grade came in second with $2,570. The top earner in the school was fourth-grader Audrianna who raised $1,045.
The top classes will be rewarded with extra physical education class time. The school's top earners will have the chance to pie Mrs. Punturiere in the face next Wednesday at 3 p.m. We will stream that live on our web channel, trinityct.org/trinitytv. For more pictures from the event, see our Facebook photo album.