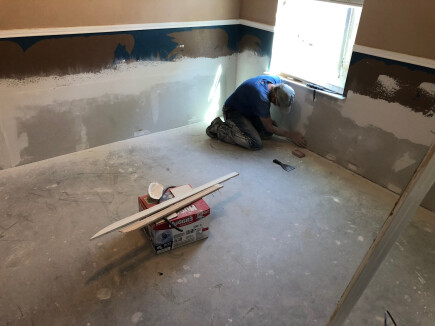 Trinity's Lutheran Early Response Team (LERT) is home from Texas after two weeks of helping with clean up from Hurricane Harvey. The team left on Monday, Oct. 16 bound for the Houston area.
Homes in the area were badly damaged after levees were opened to help with flooding in areas. Water poured into homes damaging floors, walls and belongings. Many residents were unable to get help from insurance companies because it was a man-made disaster.
Trinity was assigned to the Rosenberg/Richmond area, helping people from an Oromo Ethiopian church to get back into their homes. They began with the home of Pastor Kamiso Baru. The Ethiopian culture is to get the pastor back into his house first, so he can get back to his work.
"Much of the work we performed involved drywall repair. We followed a team from Trinity Utica, which had removed damaged drywall and performed mold remediation. We went in behind them installed new dry wall, then mudded and taped the new drywall," said Pastor Gary Richard.
Trinity's LERT team also assembled more than 300 flood buckets and more than 400 hygiene kits, which were packed with supplies donated by Trinity members. The flood buckets and hygiene kits were taken to the HARP mission in Ohio and distributed to hurricane victims in both Florida and Puerto Rico, as needed.
"The supplies we took were such a relief to the people there. They need so much to help with the clean-up. We were blessed to be a small part of it," said Richard.
For more information about LERT, including how to get involved, visit Trinityct.org/LERT. To see more pictures from the team's trip, visit our Facebook album.