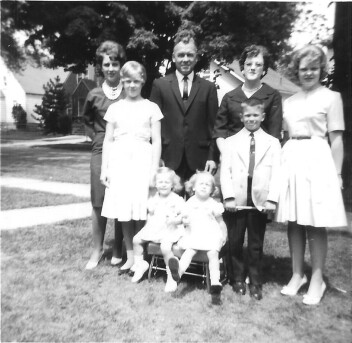 Willard Rathe would have turned 100 years old this year. Trinity's former principal passed away in 2003. That didn't stop his family from celebrating the man who was so important to their family. On Jan. 22, Kathy Reither, Rathe's daughter, brought together family members from all over the country to recognizing the milestone birthday. In the process, the family raised more than $1,000 for the Hardt-Rathe Tuition Assistance program that helps families bear the financial burden of a Lutheran education at Trinity.
The Hardt-Rathe Tuition Assistance Fund was established in honor of Ted Hardt, a long-time Trinity teacher, and Rathe, who was a teacher and principal at Trinity from 1946 until he retired in 1982.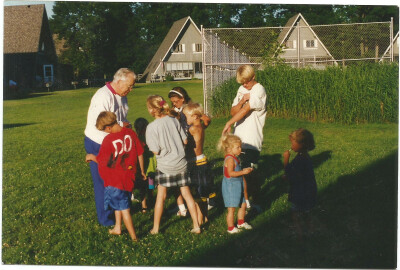 "I told my family long ago that we were going to have a big party to celebrate my dad's 100th birthday," said Reither. "Part of it was to think of something he would do, something grand, and do it before the party. As a group, we knew we wanted to raise money for the tuition assistance fund because that is something Willard Rathe would have done."
Using Thrivent Action Team fund, the Rathe family sponsored a coffee hour after church services on Jan. 21. Willard Rathe's children, grandchildren and great-children attended Trinity together that Sunday. Later than day, members of the Rathe family gathered for a donor event and celebration with Willard Rathe's life.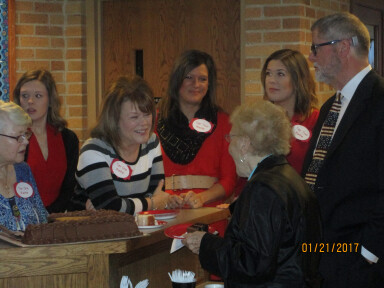 Lutheran education is important to the Rathe family. Willard Rathe and his wife, Ruth, had six children. Combined with their spouses, nine of the 12 have been Lutheran school teachers.
"We support Lutheran education in a variety of ways, but we knew that giving to the Hardt-Rathe Tuition Assistance Fund is something my dad would have wanted. He would have seen this tuition assistance fund in his name as gratifying. He would have been proud to know that his passion for Lutheran education did not stop when his life here was over," said Reither.
The celebration included family from all over the United States. Each one brought experiences of something they had done in Willard Rathe's honor. Reither said her sister wrote a poem about Lake Michigan as her dad had once done. Another sister, who is a librarian at St. Peter Macomb, taught a class of second graders who see "Abide with me," which was her dad's favorite hymn. Another family member taught his son to play Euchre, something Willard Rathe enjoyed. Others brought commemorative Christmas ornaments, Dum Dum suckers or wore his favorite color—red—in honor of his beloved Nebraska football team.
"It was great being able to come together and celebrate my dad's birthday and see his memory live on. We were especially proud of the money we raised to support the Tuition Assistance fund," said Reither.
For more information about the Hardt-Rathe Tuition Assistance fund, or to donate to it, contact Julian Petzold at or call 586-468-8511.