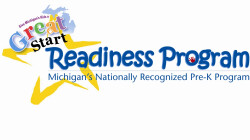 The Great Start Readiness Program (GSRP) is a free preschool program offered for 4 year olds (must be 4 by December 1) that meet household income guidelines.
Great Start Readiness Program Open house: Thursday, September 8; 9:30-11 a.m, 1-2:30 p.m., or 6-7:30 p.m. Come see our classroom and meet our teachers! For more information, contact Karen Pitters at 586-463-8803.
It is a structured preschool program that uses Creative Curriculum. Class size is capped at 18 children with one teacher and two assistants.
There are two classroom options. The full-day class runs Monday through Thursday from 8:15 a.m.-3:30 p.m. during the months of September through May. Childcare is available from 6:30-8:15 a.m. and 3:50-6:00 p.m. Monday through Thursday, Fridays and holidays for $4.65 per hour. The half-day program is Monday through Thursday from 8:30 a.m. to 11:30 a.m. Childcare it available from 6:30 a.m. to 8:15 p.m. with no after school care available. Classes run from September 12 – May 25 with holidays comparable to the school calendar.
We are happy to offer a special "Jesus Time" (age appropriate Biblical teachings) to our GSRP children from 7:55-8:10 a.m. and 3:35-3:50 p.m., Monday through Thursday, at NO ADDITIONAL CHARGE.