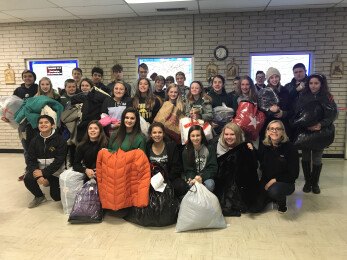 On Wednesday, Oct. 24, Trinity's eighth grade class participated in a day of service by visiting Covenant House, a local organization that helps homeless teens and young adults, and working at Gleaners Community Food Bank in Detroit.
"It was kind of life changing," said eighth grader Vanessa, about visiting the two organizations. "It makes you realize your problem are not as big as you originally thought."
The class visited Gleaners Community Food Bank in Detroit. The organization provides food to nearly 500 soup kitchens, food pantries, shelters and other agencies throughout Michigan. Last year, Trinity students participated in Gleaners' Kids Helping Kids program, which packed up food bags that were sent home with needy children over the weekends, when they might not have access to food at home.
"It made me realize how much work it takes just to get food to one house," said eighth grader Jillian.
At Gleaners, the eighth graders worked in the garden, which yields fresh vegetables that are given to those in need. According to eighth grader Maddie, the class saw "that small deeds can have a big impact."
"We got the feeling that life can change in a flash and that flash could change your life forever," said eighth grader Maddie, of what she learned through the experience.
The students also visited Covenant House. The Detroit-based organizations provides housing and support services to homeless teens and young adults.
"It was really nice that homeless teens can feel at home and it is faith-based," said Ava.
While there, the students delivered a number of coats that had been collected in a coat drive at Trinity earlier in the week. The new and gently used coats will be given to the homeless who are in need of warmth this winter.
"I learned that when you see someone roaming the streets, you really shouldn't look down on them because they are human, too. They just have a harder life," said Lauren.
"Overall it was an eye-opening experience seeing their problems on a day-to-day basis--seeing what we take for granted," said Kylie.
To see more of the eighth graders trip to Gleaners and Covenant House, check out our photo album on Facebook.