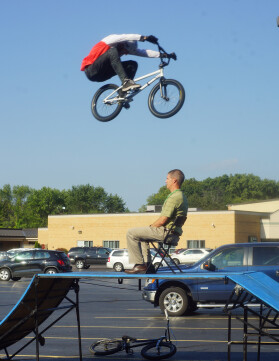 Two riders from Forward Motion BMX brought their bikes and ramps to Trinity on Tuesday, Sept. 18 for an assembly about following dreams and reaching new heights.
Two pro bikers from Athens, Georgia, talked to the students about how they took their passion or riding BMX bikes and make it their life. During the show, they also talked about being disciplined, practicing, working hard and keeping a positive attitude.
"This was a unique assembly that taught the kids about perseverance in a fun and entertaining setting," said Julian Petzold, principal at Trinity.
Tied in with the message were acrobatic stunts including spins, back-flips and even using the bikes to jump over three teachers and Mr. Petzold.
To see pictures from the assembly, check out our Facebook album.