Trinity's after-school Cooking Club served up an extra special helping at their meeting on Wednesday, March 13. The kindergarten through fifth grade students helped make casseroles for Trinity volunteers to serve at Family of God in Detroit that evening.
The Cooking Club meets every Wednesday after school to learn about cooking—from reading a recipe, to measuring in ingredients to using the stove and oven.
"They have become experts at browning meat and sautéing chicken. We teach them kitchen safety along with the basics in chopping and mixing. They learn how to pull a meal together in steps," said Sarah Gunter, who runs the Cooking Club with Cynthia Chilcut, Trinity's director of food services.
Fifth grader Audri has been involved in Cooking Club since she was in kindergarten.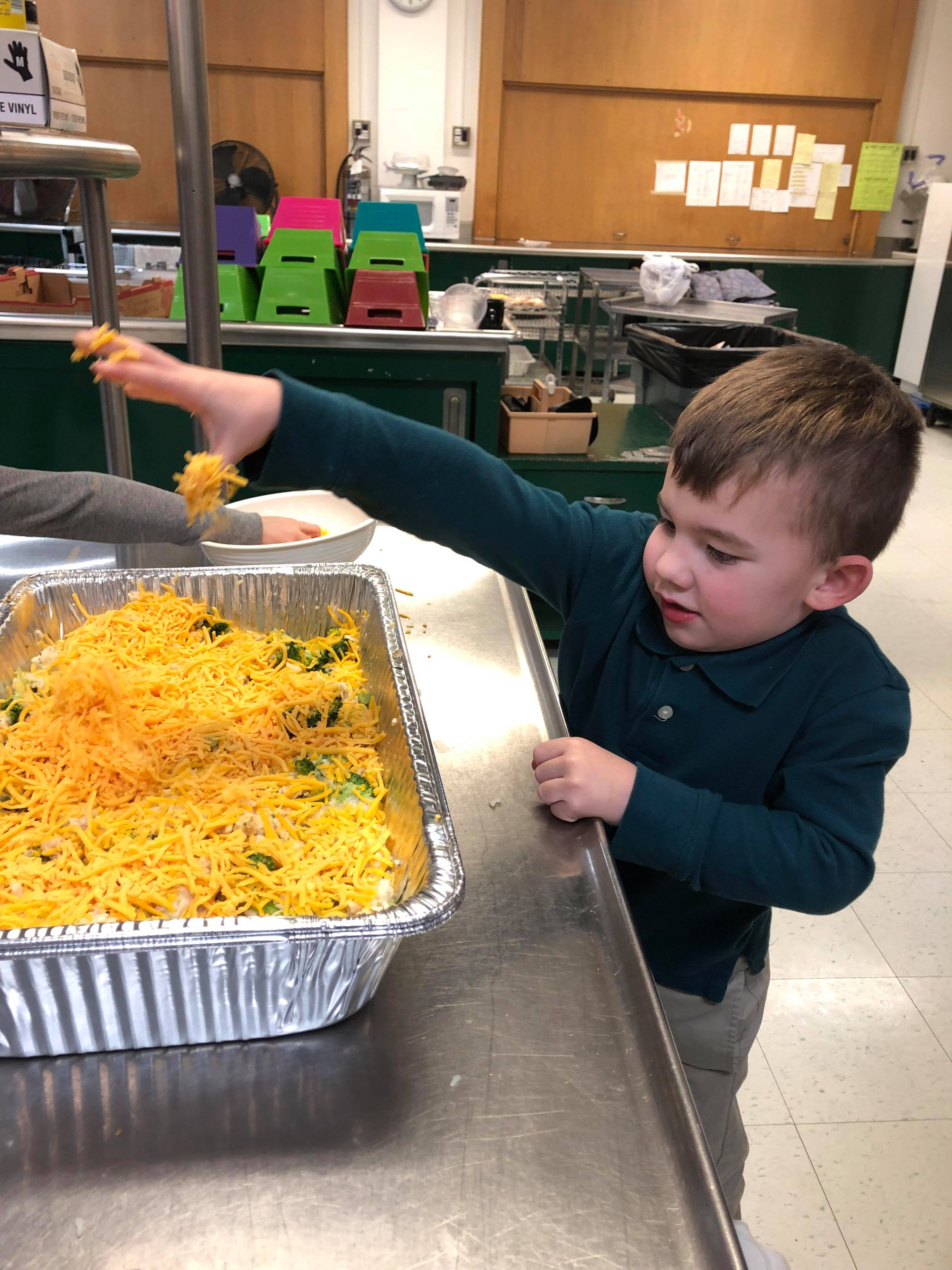 "It was just something fun to do after school," said Audri. She said several of her friends were in Cooking Club with her as well. "It was fun getting to cooking the food ourselves."
Since starting Cooking Club, Audri said she has been able to help out with some of the cooking at home. "My dad even taught me how to use the sharper knives for cutting and slicing."
According to Gunter, the kids are divided into two groups—the younger ones that need more explaining and help, and the older ones who can provide leadership in the kitchen.
The recipes come from suggestions from the Cooking Club members and online recipes that Gunter and Chilcut think the kids will like. Audri said she particularly liked cooking the grilled cheese wraps and the creamy lasagna. After spending time cooking the meal, the students have a chance to eat it.
"I have had many picky eaters go out of their comfort zone and find out that they actually like something that they thought they didn't. Many parents have said that cooking class has opened up their child to trying and liking new things," said Gunter.
On Wednesday, March 13, the Cooking Club made cheesy chicken casserole. They prepared enough casserole to serve 80-100 people at Family of God in Detroit.
One of Trinity's mission partners, Family of God is an outreach ministry working with those living in Southwest Detroit. Each month, Trinity members serve dinner to the members, many who are poor or homeless, before their Wednesday evening church service. Trinity members provide casseroles and desserts to feed about 200 people.
Chilcut said the kids in Cooking Club paid for and made the casseroles that were provided on March 13.
"I am so proud of them and the work they put into preparing the food for Family of God," said Chilcut.
Gunter said the kids perfected the recipe a few weeks ago and were excited to make it for Family of God.
"We want the kids to learn that giving back is important," said Gunter. "They all seemed very excited and eager to cook for Family of God and I was excited to do it with them."
Cooking Club runs several weeks throughout the fall and spring. The meetings are $10 each and students can come as often as they are able.
For more information on Family of God and Trinity's other impact missions, visit the Engage the World section of our website.