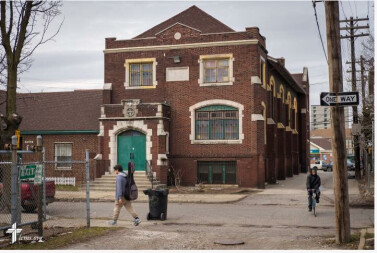 Seven years ago, Trinity member Brian Lanko began regularly going to Family of God, a church in inner city Detroit, to help serve the poor who attended the Wednesday evening worship services. Now, he helps coordinate a group of Trinity volunteers who serve the mission on a regular basis.
Twice a month, Trinity members take casseroles to the mission to serve approximately 100 people, which includes men, women and children. They sit and talk with those who attend Family of God and get to know them as well.
The Wednesday morning men's Bible study class and the Lifetree Café team sponsor the Wednesday evening dinners twice a month at Family of God. Trinity member Karen Langreet organizes a group of volunteers who make and donate casseroles to feed the Family of God guests. Brian Lanko or member Pamela Jones will warm them up and drive them to Family of God on their designated week.
The dinner is served at 6 p.m. and is followed by a worship.
"This is an opportunity for families to serve together. Kids can come and see the situation of the families there. They can help serve or play with the other kids that worship there," said Lanko.
Minister of Families with Young Children Jeremy Ashley took his wife and four children to Family of God several times this year.
"My family serves at Family of God because we have been called to serve, especially the populations that are often overlooked. Like most Americans, we have an abundance of blessings, and know that we've been called to share them. That includes not only material blessings, but time. We go to Family of God our whole family serves dinner—even the six-year-old. We then have the chance to just sit and talk with the people there. They want to be heard and loved, just like everyone else. We also have the chance to worship with them—which is a great experience for our whole family," said Ashley.
The dinner isn't the only way Trinity is involved at Family of God. Early this spring, several members helped to rebuild the altar and a portion of the sanctuary. Others volunteer with the after-school tutoring program, helping the poor children with math and reading skills.
"We go there and help and develop relationships with those that use the services at Family of God. We go down as a group and some of us go on our own. Whether it's serving dinner or just sitting and listening to the people there, it's a huge help and makes a difference in the life of the people of their community," said Lanko.
As Lifetree Café has come to an end at Trinity, the organizers are looking for a group would be willing to take over coordinating every other month. If your group would be interested in adopting this ministry effort, please contact Pam Jones at mspamelaj@yahoo.com586-790-2004 or Brian Lanko at 586-350-0444 or for more information. Jones and Lanko can also provide information on volunteering or making a donation.
To provide a casserole or dessert to help feed the 100 weekly guests, contact Karen Langreet at 586-445-2460.