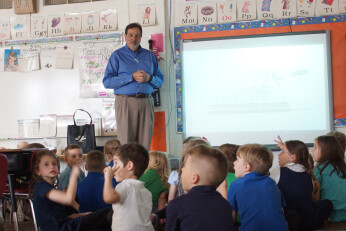 It's springtime and farmers are planting their seeds and hoping for a plentiful crop. The first graders are learning about agriculture and growing their own plants in the classroom.
The students in first grade got a lesson in farming from Mr. Howe, the father of first-grade teacher Mrs. Bender. He has a soybean farm near Frankenmuth, Mich., and visited the first grade classroom on Friday, May 4.
He brought along pictures of the planting processes and told the first graders how his crop goes from a seed, into soybeans, which are shipped to Japan and used for soy milk and other soy-based products.
The kids shared information about their own gardens and talked about the process of growing and harvesting things they eat.
The students got to plant their own seeds, which they will now watch grow. Mrs. Bender said the class will be able to witness the overall process Mr. Howe described, just on a smaller scale, with their own seeds.