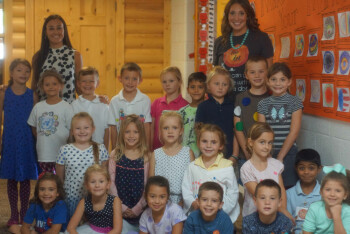 Plenty of things begin with a dot. The first grade class recognized the dot during the International Dot Day celebration on Friday, Sept. 14. The students did math activities, science experiments and even art that all revolved around a dot.
International Dot Day is recognized globally as a celebration of creativity, courage and collaboration. It was started when teacher Terry Shay read "The Dot" by Peter H. Reynolds to his class in 2009. "The Dot" is the story of a teacher who dares a doubting student to trust her abilities and bravely "make her mark." It starts with a dot on one piece of paper and becomes a breakthrough in confidence, self-discovery and sharing.
Trinity first grade teacher Emilie Bender marks International Dot Day annually as a way to inspire her students.
"I love 'The Dot' story and what it symbolizes and I want to inspire each of my students to make their marks," said Bender.
This year, her class rotated between several "dot"stations.
The math activity was graphing using Dots candies. Students created graphs based on the candy inside of their Dot box. They sorted by colors and learned how to sort and chart.
For the science side of things, the students learned about surface tension by putting "dots" of water on a penny using a dropper. They hypothesized how many "dots" of water would fit on the penny and reported on how many drops fit and what happened to the water once the maximum number of drops was reached.
Students also did artwork with dots and completed dot-to-dot coloring pages.
"I plan to make International Dot Day an annual celebration in first grade," said Bender.
To see all of the pictures from the first grade's celebration of International Dot Day, visit our Facebook album.