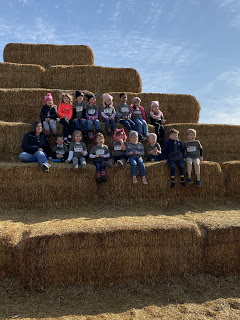 Kindergarten took part in a time-honor fall tradition: Apple picking. Kindergarteners and their adult chaperones traveled to Westview Orchards for apple-picking, playing at the playground, climbing a giant bale of hay and petting some farm animals.
The students traveled to the apple orchard, where they picked some apples. Before their trip, they sampled apples to learn what each kind tastes like. They sampled Granny Smith, Golden Delicious and Gala apples and decided what they liked and didn't like. They used created a class graph to report on their favorite types of apples.
They also learned about the parts of an apple and what an apple looks like inside.
Once they picked their apples, the students and teacher Mrs. Gastmeier made applesauce together. The students peeled the apples themselves. Then, they added cinnamon and sugar before putting the apples in the crock pot to cook. Then, they stirred them up and enjoyed the fruits of their labor.
Mrs. Gastmeier took quotes from some of the students. Here are their reviews of the homemade applesauce.
"It tastes so good," said Ella.
"It takes better than peaches, and peaches are my favorite," said Calvin.
Jacob said his favorite part of the field trip was "eating apples, because the yellow ones are so sour and I love it!"
For more pictures from the field trip, visit our Facebook page.