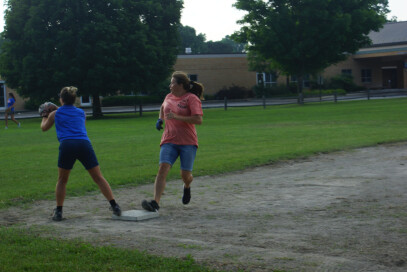 After a three year absence, Trinity's women's softball team returned to the diamond this summer. Led by Trinity member Lisa Curley, the team was made up of five returning players and a number of Trinity rookies.
Curley said a number of ladies were talking about a women's softball team at Trinity during the mother-son baseball outing at Jimmy Johns Field in May. The idea resurfaced in June and the women decided to breathe life into the previous team.
"We contacted Stacey Pipitone, the last coach, for information about the league and the church for permission to use the field. Form there, the team was formed," said Curley.
During their first practice in June, there were just five players. However, by the third practice, 18 women had joined the team.
"We had three weeks to get everything together before the first game. We all working together to get everything done in time. I could not have pulled this off by myself. I feel truly blessed to coach and play with these wonderful women," said Curley.
The team was made up of women who had never played to former college softball players. The team played a total of seven games this season. The league has teams from several congregations in the area, Immanuel, Glory Bound, Christian United, St. Peter Eastpointe, St. Peter Macomb, St. John Fraser, St. Thomas Eastpointe and Trinity.
All women over 18 are welcome to participate and Curley invites anyone interested to come out and play next summer.
"The friendship and camaraderie has been amazing. I was hoping to meet a few women to connect with," said Curley, who has two children at Trinity. "I never thought that I would get the turnout that I did. This season has been great. The team is always in a great mood, laughing and smiling. We hang out talking after the games until the bugs chase us away."
Curley said the team has a number of fans, that start with their supportive families. She said the kids enjoy playing together during the practices and games. She said the fellowship opportunities extend beyond the members of the team.
For more information on the team, contact Lisa Curley at