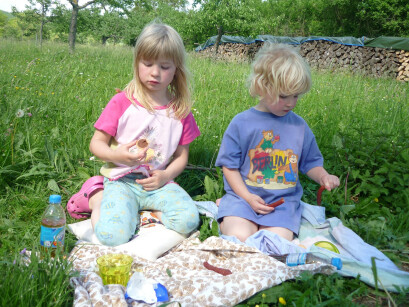 Summer is here! Moms with young children might be looking for some new activities to break up the routine. Trinity's Mothers of Preschoolers (MOPS) group has a list of the top 15 things to do with preschoolers over the summer.
1. Visit George George Park. MOPS will be there June 13 and Aug. 29 at 10 a.m. Join them there for some mom social time while out and about with the kids.
2. Make homemade popsicles. Andrea Neaton, co-coordinator of Trinity's MOPS group said she recently used the following recipe:
Watermelon
Strawberries
Raspberries
Yogurt
Small amount of milk
Blend the above ingredients and then pour the mixture into a Dixie Cup and freeze. Peel the sides when ready to eat!
3. Visit the Detroit Zoo
4. Go to the splash park. MOPS is going to the playground and squirt zone at Lake St. Clair Metropark on Aug. 8. Meet in the playground area at 10 a.m. (There is an entrance fee of $10 to the park.)
5. Camp out in tents in the backyard
6. Put on a "drive-in" movie in the backyard or garage
7. Do a scavenger hunt
8. Make giant bubbles
9. Play mini-golf
10. Make tie-dye t-shirts
11. Plant a small garden
12. Make cards to take to the elderly or a neighbor
13. Run through the sprinklers
14. Go to a local festival or carnival
15. Draw with chalk
Are you interested in meeting other mothers of preschoolers? Learn more about Trinity's MOPS group from the MOPS web page.