As we celebrate National Lutheran Schools Week, Trinity is telling the stories of our students, families and alumni. These current and former families are illustrating first-hand why Trinity is a great place for a solid Christian education.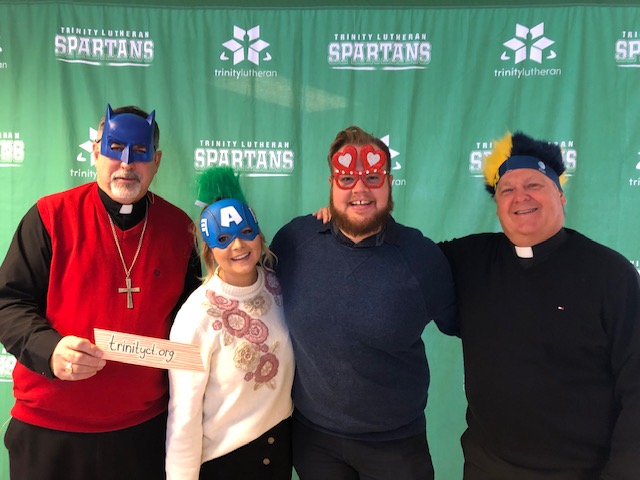 When Emily Wright's husband, Blake, received a call to serve as Trinity's Director of Students Ministry, she was shocked.
"I truthfully never saw it coming. At all," said Emily, who had settled into life in Florida, where Blake was working. "I didn't think that we would come back to Michigan, let alone to where I was from."
Emily, previously Emily Racey, attended preschool through eighth grade at Trinity. Once she graduated, she stayed connected and even worked in the Early Childhood Center at one point.
Some of her favorite Trinity memories come from current eighth grade teacher Sally Buss, current sixth grade teacher Brian Anders and former seventh grade teacher Mark Brown.
"They stood out for me and they still stand out in my mind," said Emily. She said she enjoyed her math and science classes at Trinity.
When she left Trinity, Emily went to Chippewa Valley High School. She said her education at Trinity prepared her for high school and beyond.
"I was completely ready academically for high school, even though I wasn't going on to Lutheran North. The education at Trinity really set me apart and prepared me," said Emily.
Emily said the small school feel helped her feel as though everyone, from the teachers to staff and the principal cared for all of the kids.
"They know more than just your name. They know your home life and they let you in on their's. There is a connection. You have those mentors and they stick with you even after graduation. Sometimes those mentors grow into friends," said Emily.
It wasn't only academically that Emily felt prepared. Her connection to the church community carried her through high school, college and even to her work now.
"I feel like it says something about this place as a whole, because once I left I was still super invested and involved. I sang in church on Sundays and in ninth grade, Sally finally let me go to Guatemala with her. Since then, I've been 13 times," said Emily. She even led a group to Guatemala on mission trips twice while she was living and working in Florida.
While Emily studied Christian education for older adults in college, her internship centered around children's ministry and she has a passion for working with and teaching children. Now at Trinity, she'll work with our 252 Sunday school experience.
"I would love to see more families taking advantage of the opportunities we have, especially for kids and youth. We are really excited about it and excited to be plugged in and jumping all in. My hope is that more people learn about the programs we offer and send their kiddos, because it's a lot of fun. I enjoy helping them learn and grow deeper in their faith," said Emily.
Along with Blake, Emily said she hopes to come alongside the kids and families and grow with them and make personal connections.
"I can't believe how much it feels like coming home," said Emily.
If you know someone interested in a Lutheran education at Trinity's school or Early Childhood Center, let them know that our 2020 Open House will be held on Sunday, Feb. 2 from 10:30 a.m. to 1:30 p.m. They have the opportunity to tour the school, see our classrooms and meet with teachers. For more information, call the school office at 586-468-8511.