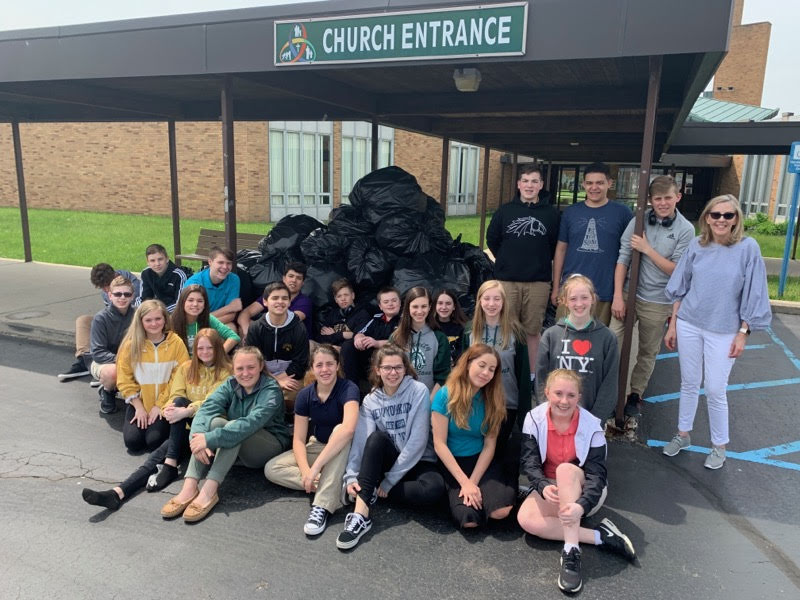 Trinity students collected every returnable can and bottle they could find for the school's can and bottle drive on May 16 and 17. The prize: An ice cream sundae party for the winning class, but, overall, the students were able to raise nearly $2,000 for Groundwork Guatemala.
With a goal of $1,000 in mind, Trinity eighth grade teacher Sally Buss challenged the students to bring pop cans and bottles to compete against each other for a class ice cream party. The students brought in returnable cans and bottles and raised $1,873.55. Since Trinity is not sending a team to work in Guatemala this summer, the money will be sent to the organization to buy any needed supplies.
The third graders will enjoy the ice cream sundae party. They bought in $295 worth of cans and bottles. They were followed closely by the first grade, which brought in $274 and then sixth grade, which brought in $266.10.
The can and bottle drive carried over into the weekend. Trinity attendees were encouraged to bring cans and bottles to church on May 18-19 for collection. Those numbers have not yet been tallied.
"A big thank you for selfless donations of cans, bottles, parent donations and students' own personal savings. You just shined a very bright light in Guatemala," said Buss.
A Thrivent Action Team helped purchased supplies, ice cream party fixings and prizes. There will be prizes for the 2nd and 3rd place winners as well. The 8th grade will be serving up ice cream sundaes to the winning 3rd grade class this week.