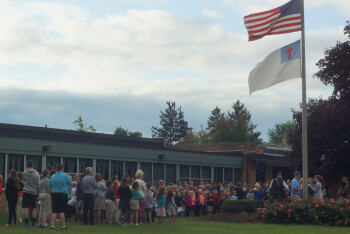 While Trinity students have the freedom to pray openly in the classroom, many students around the world do not. However, one day per year, praying students around the globe unite their voices in during See You at the Pole. Students from all types of school meet at the flagpole before school to pray for their school, teachers, peers and leaders.
The See You at the Pole movement began in 1990 with a group of students from Burleson, Texas. Not knowing what else to do in a time of turmoil, the students met at the flagpole of school to pray. They encouraged other students to do the same at an agree upon time. By Sept. 12, 1990, more than 45,000 teenages were motivated by the Holy Spirit to meet at their school flagpoles and pray together.

Word began to spread about See You at the Pole and it became a national day of student prayer. It is estimated that more than 3 million students around the world participate each year.

Trinity students met outside to mark See You at the Pole rather than staying inside for their typical chapel services. As cars drove down Harper, the students sang songs and prayed for their school, the church and its leaders and the world. They also raised the American flag and the Christian flag and said the pledges.
Led by Principal Julian Petzold, Pastor Brian West and the eighth grade class, the students thanked God for their ability to pray every day in school.
Click here to watch the full See You at the Pole service from Wednesday, Sept. 26, 2018. To see pictures from the event, check out our Facebook album.