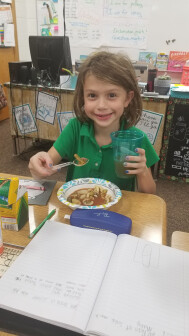 Stone Soup, made in the book "Stone Soup" by Jon Muth, includes carrots, cabbage, potatoes, meat, barley, milk, and of course, three round stones. In Jamie McMahon's second grade class, the students made the same soup, minus the stones. While making the soup through the directions in the book, the students also identified the properties of the mixture and tied in their science lesson.
The soup simmered in a Crock Pot in their classroom before they examined it.
A mixture, which is made up of two or more substances, has physical properties that differentiate it from a solution. Using the soup, Mrs. McMahon was able to show the students those properties and the physical changes.
It worked out well as the class had also read "Stone Soup" and they had the chance to try it. In the book, hungry strangers convince the townspeople to share a small amount of their food in order to create one meal that everyone can enjoy.
The townspeople had tried to hoard their goods, but the hungry strangers convinced them to add it to the "magic" soup made from rocks. The result was a large feast, fit for a king.
The students loved the soup as much as the townspeople with several of them going back for seconds.
For more pictures, check out our Facebook album.