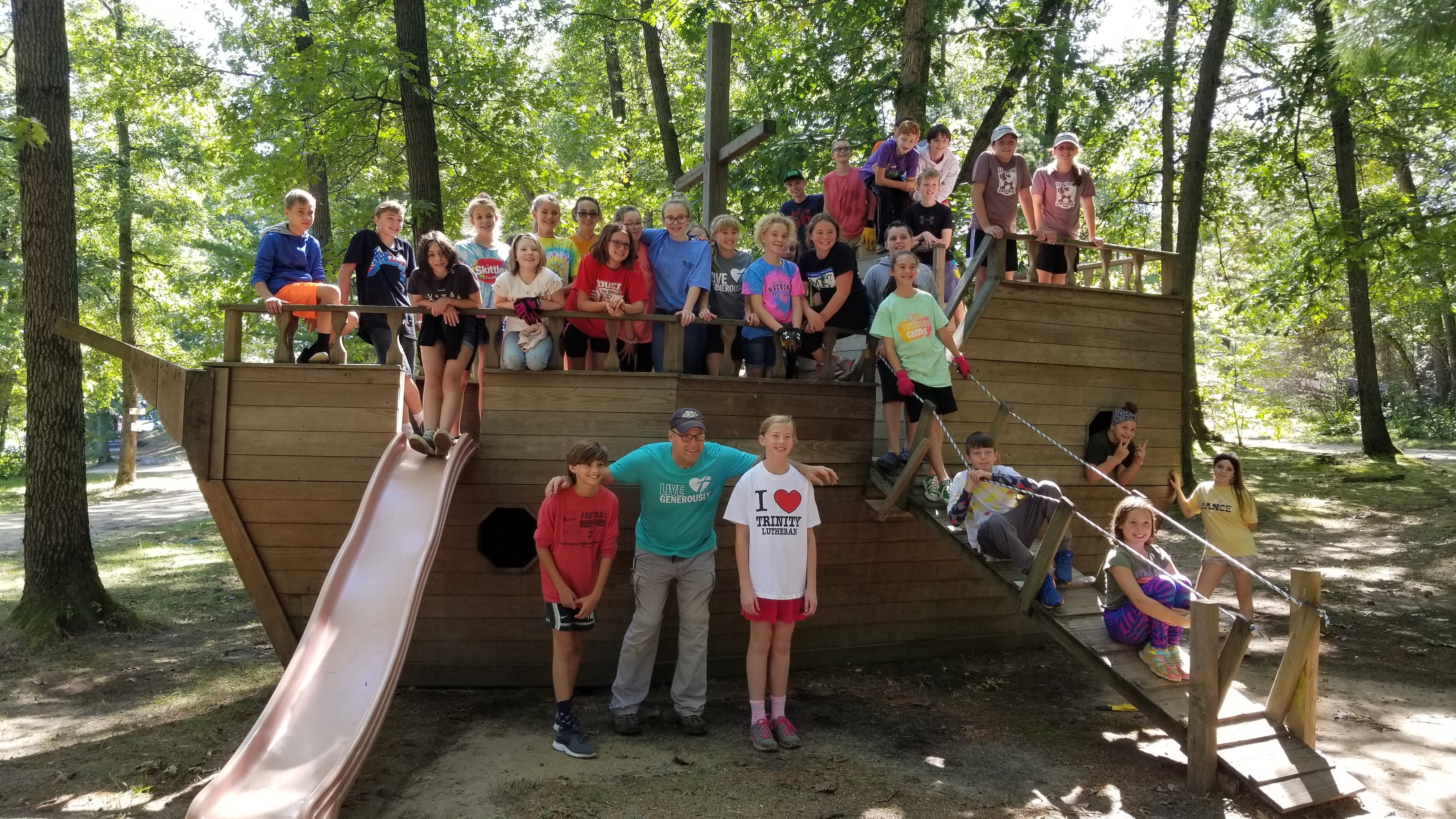 Twenty-eight seventh graders and several chaperones from the Trinity congregation gave up a weekend to help serve at Camp Concordia, located in Gowan, Mich. They worked, played and grew together as part of their confirmation journey.
The seventh graders departed Trinity on Friday after school and made the drive to Gowan. After unloading and setting up their beds in camp, the kids and their chaperones hiked to a camp fire. They sang some of their favorite Christian campfire songs before returning to camp for lights out.
Saturday morning began with prayer, breakfast and then the students got right to work. They stained a number of picnic tables, a deck and even a bell tower. The kids completed all of the work in several hours and had a break to listen to Bill Wrede from Concordia Seminary in St. Louis.
Wrede talked to the students about vocation and how everyone is called to do something different. The kids were encouraged to share what they are called to do, even now in their lives.
After lunch, the kids and chaperones continued the staining tasks and helped to stack picnic tables before having some free time to play. They had several activities to choose from, including zip lining, canoeing, swimming, basketball, Gaga Ball and enjoying the camp.
They students had dinner and then participated in some friendly games, pitting small group against small group. They played 9 Square in the Sky, Gaga Ball and a game of volleyball. Afterward, the camp had another bon fire, including a time of sharing the way God touched their lives. There was more singing and then some s'mores. The kids and chaperones retired after the busy day.
On Sunday, the groups were divided into even smaller groups to prepare their own chapel service. Students wrote each part of the worship, from the invocation to the message. They even helped to decorate the outdoor chapel. For an offering, the kids and chaperones shared the one thing they were thankful for that weekend.
After the church service, the groups packed up camp and headed home.
The trip to Camp Concordia is a part of the confirmation process. The students who attend the camp learn not only more about their relationship with God, but also themselves and their peers. The group is made up of kids who attend Trinity's school, but also kids who attend other schools. Activities like this help them all get to know each other and feel connected.
Trinity students go to Camp Concordia each fall for a service opportunity. Students who want to go during the summer can check out the Camp Concordia website for more information.