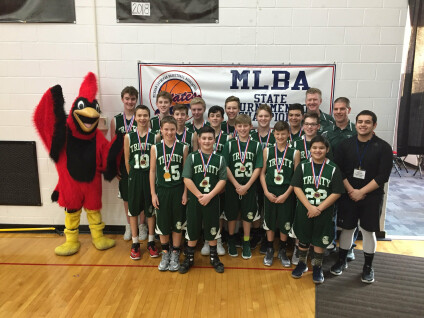 Trinity's boys basketball team is the Michigan Lutheran Basketball Association state tournament champion. The team defeated St. Peter Macomb in the championship game on March 5, by a score of 39-27.
The tournament started on Saturday when the Spartans played St. Matthew Westland in the opening round. Trinity's boys won the game 41-36.
The Spartans pulled out a closely contested game led by eighth-grader Logan Petzold. The guard was all over the court for the Spartans with 18 points, 5 rebounds, and 2 assists. The Spartans outscored the Raiders 14-4 in the fourth quarter to advance.
In the second round, the Spartans took on Immanuel Macomb and won 43-35, sending them to the championship game on Sunday, March 4.
The Spartans were led by Petzold who went 5/9 from 3-point range and over 50 percent from the field, giving him a total of 19 points. Seventh-grader Joseph Wolosyk added 5 points, 8 rebounds, and 2 assists for Trinity.
In the championships, the Spartans took an early lead, driven by Petzold once again. The Spartans widened the gap after halftime and dominated the second half.
The Spartans' team effort earned them the title.
Check back tomorrow for more pictures and information about individual awards.