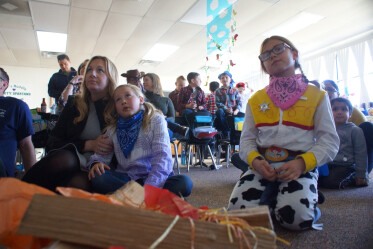 Continuing the tradition started by retired third-grade teacher Joanne Brown, current teacher Catha Huff brought the Wild West to her classroom to celebrate the end of achievement test week.
The week before the Wild West round-up, the students met with Mrs. Brown to learn some campfire songs. They also practiced a Virginia Reel dance in physical education.
Each year, Joanne Brown, third grade teacher, brings the west to the classroom with a special lunch, dress up day, dancing, activities and a "campfire" in the classroom while watching a movie.
Dressed in their western wear, the kids had a chuck wagon lunch with hot dogs, baked beans and root beer. After lunch, several parents joined them for the Virginia Reel in the gym before heading to the classroom to sing campfire songs.
"I wanted to give the students a way to relax after a full-week of testing. This was a great way to spend the afternoon and honored the tradition Mrs. Brown established," said Huff.
To see pictures and video from the event, visit our Facebook page.