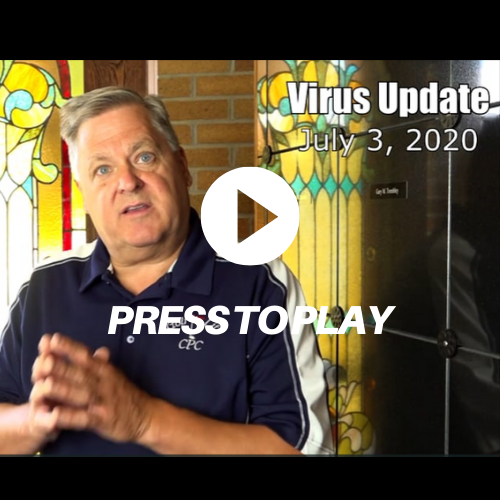 Hi everyone,
Welcome to episode 16 of our Trinity Coronavirus update. I hope you are able to relax a little and to enjoy some time together with family and friends on this 4th of July weekend. Our Independence Day holiday gives us an opportunity to give thanks to God for our nation and for the freedoms we enjoy; especially our religious freedom. It's also a time to be reminded that we need to steward our freedom, to use our freedom, in good and Godly ways to make America a better place, and to work for greater equality, justice, and freedom for everyone. With that said I hope you have a great 4th of July weekend wherever you.

As for our life together at Trinity here are a few updates:
Unfortunately, we are cancelling our Monday night worship service, at least for July, and possibly for the rest of summer due to a lack of attendance. We still have lots of safe space at both our 8 and 11 a.m. services on Sunday for those of you who want to come back to live, in-person, worship. We would love to see you there.
We continue to offer the sacrament of Holy Communion for you and your household on Tuesdays and Thursdays each week throughout the month of July. Go to the Trinity website and click on Communion Registration and you'll see how to register. Again, if you need assistance contact the church office at 586-463-2921.
I really want to encourage you to make time for receiving the sacrament. It's safe. It's brief. Much more importantly, however, it is faith food. It's Christ delivering His forgiveness to us. It's Christ being present with us and for us; uniting us more fully with Himself and with one another. So, come and bring your family. We're still praying a blessing over the kids and after you arrive you wont need a mask as we have all of our houeholds safely distance from one another. Hope to see you there.
As of Monday, July 6, we are officially re-opening the church during the week for meetings, classes, ministry activities, community groups, and so on. The one exception is the school gym. The gym is not yet open. There are, however, two conditions for using the building so please, listen carefully. All activities, regardless of the number of people, must be scheduled in advance through the church office. We want to ensure that events are scheduled in such a way that we have plenty of time to clean an area before it is used by another group. Second, we expect you to practice good hand hygiene as well as social distancing. Masks are encouraged, but not required.

Finally, you may begin scheduling rooms and building usage for activities through December of 2020. Please, understand, however, that everything is subject to change, additional restrictions, or cancelation depending on the changing needs of our ministry as well as community conditions.
This weekend we are kicking off our summer sermon series called: "Road Trip." We'll be following the apostle Paul in the book of Acts, to a wide variety of places he went during his many missionary journeys. I think you'll be blessed.
Finally, something a little nostalgic. Recently a stain glass window from the original Trinity Church at the corner of Dickinson and Gibbs Streets in Mt. Clemens was purchased and restored. It's now hanging by our Columbarium. It's a simple and beautiful reminder that God has been at work through His people in this area, for a long, long time. Perhaps even more importantly, it's a reminder to us that we stand on the shoulders of those faithful people who have gone before us who were committed to sharing the gospel in our community. So, pandemic or no pandemic; good times or bad times; we've been called by God to continue his mission to form fully devoted followers of Jesus. It's time we jump back into this with our whole heart.
That's it for this week. Blessings and peace to all of you. Have a great week and may God bless America.
Pastor Ken