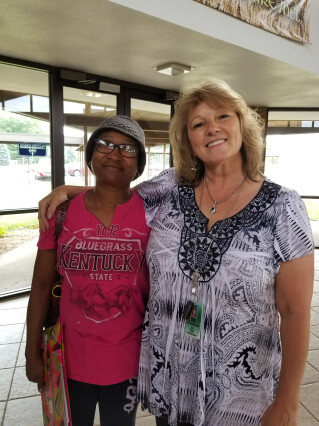 Every day, Trinity has the capacity to assist four families in need of food. The community service touches the lives of dozens of people each month. For one recipient, the food pantry made all the difference as she worked her way through school and getting back on her feet.
The Trinity food pantry, located in the back of the kitchen, is stocked by Trinity members with boxed food, canned goods, bread and meat. Needy members of the community, who don't have to be Trinity members, can call in and request food once per month. A volunteer packages up the goods and meets them at a designated time.
Some of the needy call regularly each month, others get help once or twice and Trinity never hears from them again. Mishondia Davis has been relying on the food pantry for about six months as she works her way out of a tight spot in life.
After spending years working in factories, Davis lost her job and decided to take a chance and return to school to better herself and find stable employment.
"My daughter said, 'if you are going to go, then do it.' I was inspired by my children and I wanted a more comfortable life," Davis said. She enrolled at Dorsey Schools Culinary Academy. "I've been cooking all my life with my grandma and growing up. I love it, but as we grow up, it's all about making money and earning a pay check so I didn't pursue cooking as a career before this."
While working nights at Tim Horton's, Davis went to school during the day. Without a car, she was taking the bus, which made her days very long. All her resources were going to rent and school, and things at home were tight. That's when she learned about Trinity's food pantry.
"Someone in my apartment building told me about Trinity's food pantry. It's phenomenal. Our church doesn't have a pantry," said Davis. She said she used the pantry once a month, Trinity's limit, for several months and it eased her worry about having food.
During her phone calls in and meeting with the pantry volunteer, she befriended Trinity secretary Robin Shuell. After learning that Davis was in school for culinary arts, Shuell suggested to Davis to apply at places like local marketplace Nino Salvaggio.
Davis did. Now she's working in the café at Nino's.
Things are turning around for Davis as well. In addition to her Nino Salvaggio job, she's also continues to work nights at Tim Horton's and is getting back on her feet.
Davis was able to purchase a 1996 Chevy Cavalier and she's now paying down her student loans.
While she's hoping that she soon won't need to get food from Trinity's pantry, she knows that she can always come back and get the help she needs.