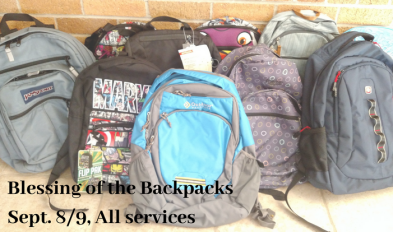 Calling all students! We mean all students, as in preschool through college, to bring your backpacks to church this weekend. We will hold our annual Blessing of the Backpacks during our worship services at 5 p.m. on Saturday and 8 a.m. and 11 a.m. on Sunday.
Blessing of the Backpacks is something that Trinity has done for many years. During worship, the congregation prays over the students for the upcoming school year. Students are given a prayer tag and small item to tie to their backpack, reminding them that God is with them all school year.
"Blessing of the Backpacks is a great example of our church and home partnership in action. As a church, we love to speak blessings over our students and those who lead them academically," said Jeremy Ashley, Minister to Families with Young Children. "This is also a great opportunity for parents to refocus on the school year ahead and be reminded that they are the front lines of nurturing the faith of their children."
There is no pre-registration needed and if children forget their backpacks, they can still be included. Just show up and let the Trinity family pray for all students.