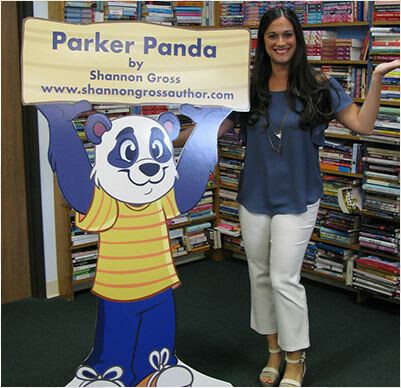 "My little one would never go to bed without a story," said Trinity member Shannon Gross. One evening she didn't feel like reading to him from any books from their shelf. Instead, she made up a story about a baby panda and his mother. Little did she know that bedtime story for her son would become her first-ever published children's book.
"It was always in the back of my mind to write a book," said Gross. "The hardest part was picking up the pen and saying 'I'm going to do this.'"
It was during the Living Your Strengths class, led by Aimee Kilcher, that Gross found the confidence she needed to take the next step.
"It was Aimee's inspiration that pushed me. She was good at encouraging and bringing out the best in people," said Gross.
With the story in mind, Gross set out to make the dream a reality.
In an unusual twist, Gross contacted Minister for Outreach and Assimilation Sue von Fange to inquire about any illustrators in the congregation. During the call, von Fange gave Gross the number of Alyssa Baker, who is Kilcher's niece.
"I had no idea when I got Alyssa's number that she was Aimee's niece. It was just God at work," said Gross.
Through the ideas and words of Gross and the artwork of Baker, Parker Panda was born. In Gross' book, "Parker Panda Makes His Lunch," a curious and independent panda cub tests his boundaries as he makes his own sandwich. Through the events of the story, Park learns a valuable lesson about the love of his mother.
"The process was so natural. I don't have to try to do the writing. It was like a God-given gift," said Gross.
For 14 years, Gross has worked for a telecommunications company. She had to learn to navigate the waters of self-publishing. She learned all about artwork, page layouts and sizing. In the end, her book was etched into iron plates in China and printed there. The process was a lot more time consuming than Gross ever imagined.
"From the idea for the book until the books were delivered to my door it took 2 years and 11 months," said Gross.
Since the book was published, she has been been getting the word out about Parker Panda, which included a stop at WXYZ Channel 7 for an interview several weeks ago. She continues to look for ways to market her book and now has a new website with book information and even Parker Panda coloring pages.
To learn more about "Parker Panda Makes His Lunch," visit Gross' website ShannonGrossAuthor.com or look for the book on websites like Amazon. (Use Amazon Smile when making your purchase to benefit Trinity.)