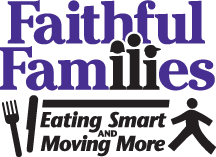 Trinity will host the Faithful Families Nutrition series beginning Tuesday, Aug. 21 at 3:30 p.m. in the Church Lounge. This series will help families identify ways to eat healthier and incorporate exercise into their busy lives. This six-week session will be taught by a facilitator from the Michigan State University Extension program.
The Faithful Families program will stress the importance of eating smart and moving more through a faith-based approach.
"One of the best ways to stay healthy is to eat well and exercise," said Parish Nurse Lisa Riviera. "This program, which is designed for families to attend together, will help families set realistic and obtainable goals when it comes to their eating and exercise habits."
The series has a classroom experience, take-home activities and even an online component to help families fully engage in the material. Families will have the chance to try out new recipes and learn about incorporating exercise into their daily life.
For more information, or to register for the workshop, contact Lisa Riviera at 586-213-1339 or email .