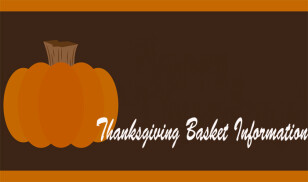 Each year, Trinity provides 100 Thanksgiving food baskets to families in need in Macomb County. Trinity relies on the generous donations of its members in order to fill the baskets. Below is a list of items need to make sure those who can't afford it still have a Thanksgiving meal.
Items needed for the Thanksgiving baskets include:
Turkey

Jenno turkey (for single-person households)

Potatoes

Cranberry sauce

Canned sweet potatoes

Turkey gravy

Peanut butter

Spaghetti sauce
Spaghetti Noodles
Dinner rolls
Frozen pies or cakes
Stove Top or regular stuffing
Canned vegetables
Yams
Canned soups
Jelly/jam
Butter
Food should be dropped off at Trinity by Monday, Nov. 12. Food items can be placed in the food pantry area of the donation center, located in the hallway near the church nursery and the parish nurse office. Frozen items may be dropped off Monday through Friday between 9 a.m. and 2 p.m. in the school kitchen.
Those in need of a basket should visit the Church Office beginning Nov. 1 from 8:30 a.m. to 4:30 p.m. to sign up. All of those who register for a basket must provide picture identification and live in Macomb County. One basket per household. Trinity members in need are given priority.
Baskets will be distributed on Saturday, Nov. 17, from 1–3 p.m. For information, call the church office at 586-463-2921.