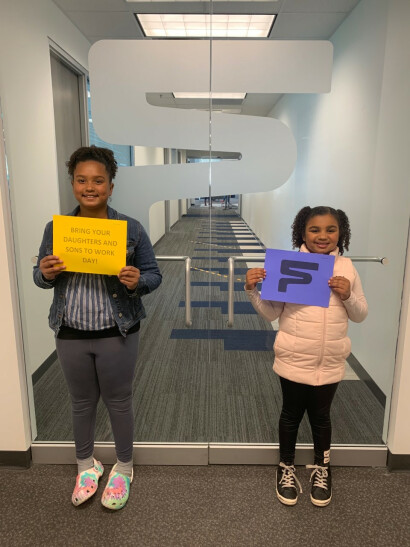 For fourth-grader Alex and her second-grade sister Gabby, the COVID-19 pandemic meant their dad worked from home a lot more. While his job was always somewhere he went, they were now able to see him doing a lot more of his work and they had a lot more questions. Their dad, Troy, was recently able to take the kids to his job as part of Take Your Child to Work Day.
As a purchasing manager for acquisitions and innovation for North America at Forvia, Troy is in charge of supporting business units in quoting new business to customers for automotive seating components. He also costs components for Innovation Technologies that will be sold to Forvia's customers.
"I feel it is important to have my daughters experience what their dad does at work, and to show the values of responsibility, discipline and education as it relates to preparing for their work careers. Also, I wanted them to have a visual experience of the actual products that I work with and to meet my coworkers. Finally, I value the memories of them experiencing my office building, the drive to work and them spending time with me for one day at work," said Troy.
Troy said Alex and Gabby have more questions about his job since he was working at home during the pandemic. He said they could hear his virtual meetings, see him working and were picking up bits and pieces of what his job was all about.
Forvia had several activities set up for the kids. Troy said it helped to bring his job to life for his daughters.
"They experience practical applications of technologies we develop, for instance, how a robot arm can be programmed to throw cornhole. They also saw how we make prototype seats for testing, how we test the prototype seats and some of the new innovation concepts that we develop for the electric vehicle market," said Troy.
He said Take Your Child to Work Day helps Alex and Gabby learn what its like to be a working professional and the importance of education on their adult lives.