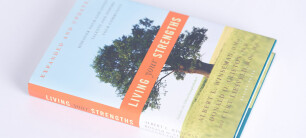 Living Your Strengths will help you uncover and affirm your areas of greatest God-given talent (ways in which you naturally think, feel, and behave.) Participants will explore how those talents are evident in their relationships and in all they do. By God's design, what are you uniquely created to contribute? What if, rather than thinking your goal is to become well-rounded, you discover that "you are at your best when you do what you naturally do best?" How powerful and energizing might that be? That is at the heart of the Living Your Strengths journey.
Living Your Strengths is...
different from anything most people have ever done at a church so far
very practical, and applies to work life, personal life, and family life
very good at connecting the participants together, more than most group experiences
helpful in terms of sorting out things in the past but also in preparing an individual for the future
fascinating—it teaches participants a lot about themselves, others, and people in general
a good spiritual boost
great for people in transition since it provides real direction for next steps
potentially able to significantly strengthen Trinity as a congregation
Mondays, February 24 – March 30, 7-8:30 PM
Licensed childcare provided if requested
Email or call 586-463-2921 to sign up.