Our mission is to assist families to make fully devoted followers of Jesus Christ through Christ-centered education.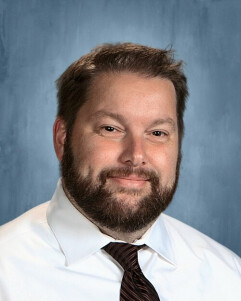 Trinity Lutheran School is a Christian School. Our primary goal is to share the truth of the Gospels and help children and their families grow in their relationship with Jesus Christ. Our school provides a safe nurturing atmosphere where children can hear God's Word daily and learn about His love and blessings. It is a place where Christian teachers help children define and implement a Christian lifestyle and Christian values. It is a place of caring and love that extends longer than the school day and beyond the classroom walls.
Trinity is a Michigan Lutheran School of Excellence and also accredited by the Michigan Lutheran School Association, the Michigan Association of Non-Public Schools Accrediting Association, the Michigan District and the National Lutheran School Association.
Trinity Lutheran School is a school where children also learn the following:
Children learn right from wrong.
Children practice common courtesy and respect for others.
Children are taught that each individual is a unique creation of God with certain talents and abilities.
Trinity Lutheran School is also a place where students, faculty, and parents make mistakes. Conflicts arise and behavior may, at times, not be in line with our purpose and Christian values. Therefore, our school is also a school of forgiveness, where we try to learn from our mistakes and seek out ways to help each other.

I sincerely hope you find what you are looking for by visiting our web site and know that I would be happy to talk to you about our school at any time.
In His Service,
Mark Brown
Principal
586-468-8511 ext. 131

Frequently Asked Questions
What are your teachers like?
We are committed to selecting staff that are uniquely trained and qualified to carry out our mission. Trinity's staff strives to create for each student an environment of caring support, academically and spiritually. Through our uniquely Christian approach to curriculum, instruction and discipline, we communicate the gospel to all students. See our teachers on our staff page.
Are you accredited?
Trinity Lutheran School holds to a high standard of education. We are accredited through National Lutheran Schools Accreditation (NLSA), Lutheran Schools-Missouri Synod Michigan District (LC-MS), and the Michigan Non-Public Schools Accrediting Association (MNSAA).
What are the school hours?
Classes meet Monday-Friday as follows:
Kindergarten1/2 Day: 8 a.m.-11:30 a.m.
Kindergarten Full Day: 8 a.m. - 3:15 p.m.
Grades 1-8: 8 a.m. - 3:15 p.m.
What if my student needs care before or after school?
Students will be allowed to enter the school building no earlier than 7:40 a.m. All students arriving before that time will go to SAC (School Age Childcare). At 3:30 p.m., those students not picked up will be sent to SAC. Students not involved in an after-school activity must immediately go home or to SAC.
How often do students go to chapel?
All students attend chapel once per week. Parents are invited to worship with us on Wednesday mornings at 8:15 a.m. Students have regular faith formation time in their classrooms as well.
What specials are offered to students?
All students participate in Spanish, art and computers. Students in 5th grade participate in beginner band, while band in optional for 6th through 8th graders. Choir is also offered to all students and is optional in 6th through 8th grade. In the lower grades, all students participate in choir and music classes. During 4th grade, students are introduced to the recorder.
What extra curriculuar activities are offered?
Trinity has an athletics program that includes cross country, soccer and girls volleyball in the fall; boys and girls basketball in the winter and track in the spring. Athletics are offered to students in 5th through 8th grade, with 4th graders invited to join in cross country and track.
Trinity also offers a variety of other activities throughout the year, including art club, cooking club, golf lessons and more.
What does it cost to attend Trinity?
Trinity does charge tuition. There is a discount offered to Trinity members in good standing. For those who need financial assistance, it is available.
Current Tuition
1 child - Member $3,750, Non-Member $5,775
2 children - Member $6,550, Non-Member $10,575
3 children - Member $8,575, Non-Member $14,375
Kindergarten 1/2 Day - Member $3,000, Non-Member $4,400
Kindergarten Full Day - Member $3,750, Non-Member $5,775
A 5% discount is available if payment is made in full by June 20, 2021.
The non-refundable Enrollment Fee is not included in the schedule.
All families enrolling children are assessed a non-refundable enrollment fee.
If you are interested in more information than our website provides, please fill out the information form and our admission director will contact you to answer any questions you might have.
If you know Trinity is the place you want to send your child, you may begin the application process.
After submitting the application, you will be able to track your admissions status at the school by logging in to your account. In addition, you will be able to print the completed application, monitor when the school receives any applicable supplemental forms and, if necessary, reprint the forms.