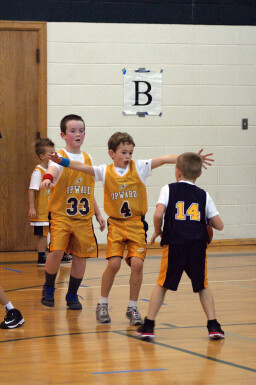 Upward Sports is an outreach sports ministry for children in Grades K-6 that combines solid sport instruction and skill development with a ministry component that introduces children to Jesus Christ. Trinity offers both CO-ED BASKETBALL and CO-ED CHEERLEADING. Learn more at www.upward.org. E-mail Trinity-specific questions to .
Registration Information
Registration opens Oct. 1 and ends Oct. 24 (or when the division is full). The registration cost per child is $100 for basketball or cheerleading, which includes a complete uniform at no extra cost.
Late registration starts on Oct. 25 ends Nov. 8. The cost per child for late registration is $110 for basketball or cheerleading, which includes a complete uniform at no extra cost.
After Nov. 8 email to inquire about space in a particular division.
Registration must be completed online using the Upward Registration Form. You will be prompted to pay online to complete registration.
Basketball Team Assignment System
Teams are system generated based on the scores of evaluation day. This is a co-ed league and the system considers skill when assigning teams, it does NOT consider gender. Every attempt is made to ensure there are at least two players of each gender on each team.
The system will attempt to honor the following registration information:
Up to two coach requests per coach, including the children of the coach
One carpool link per player. This is only recognized by the system if the players are in the same division and they request each other. If you have multiple children in the same division and they need to be on the same team, they need to select each other as the carpool link.
One practice night exclusion may be selected at registration. Additional exclusion nights cannot be guaranteed.
Evaluations and Orientations
Every basketball and cheer participant must attend at least one Evaluation Day for the following:
Uniform sizing - samples will be available
Basketball players only MUST be evaluated for team placement.
Evaluations will take place in the Trinity Gym. This is an open house type event and you can come up anytime during the following scheduled times:
Oct. 26, between 9 a.m. and noon
Nov. 9, between 9 a.m. and noon
Please park in front of building, on Harper Avenue, and use Door 20.
Program Schedule
The first practice will be held on Monday, Jan. 6, 2020, with the first game being played Saturday, Jan. 18. The season goes through March 14, 2020. There will be NO practice or Game Day the week of Feb. 17-22. The awards celebration is scheduled for Friday, March 20, 2020 at 6:30 p.m.
Practice Times
Practice will be held in the Trinity Gym, once a week, for one hour, on Monday, Tuesday, Wednesday or Thursday, Jan. 6 through March 12, 2020, according to the following schedules:
Kindergarten through 2nd grade - 6:45 p.m.
3rd and 4th grade - 6:45 or 7:45 p.m.
5th and 6th grade - 7:45 p.m.
Game Times
Games run one hour on Saturday, Jan. 18 - March 14. The first game starts are 8 a.m. and the last game starts at 1 p.m.
Volunteers
The Upward team is looking for volunteers to coach, referee, help on game date and run concessions. For more information email .