Kayden Strong expected to begin his first day of his senior year of high school with his friends at Anchor Bay High School. Instead, he's logging on to classes from home, staying away from most people to avoid germs and praying his body recovers quickly enough from the effects of chemotherapy so he can return to the classroom in January. While he spends most of his time isolated, traveling to and from doctor visits and fighting cancer, Kayden remains connected to his faith and Trinity thanks to a little help from his youth group friends and Pastor Jeremy.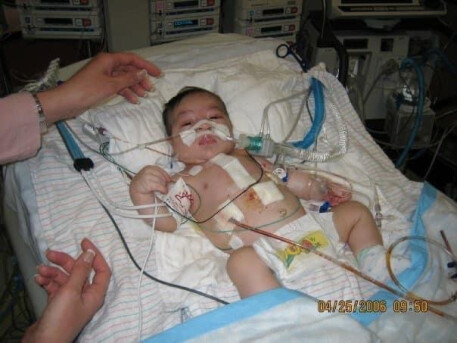 When Kayden was born, it quickly became evident something was wrong. He was transferred to Children's Hospital of Michigan and diagnosed with Hypoplastic Right Heart Syndrome. HRHS is a congenital heart defect in which the right side of the heart is underdeveloped, leading to inadequate blood flow and low oxygen levels. It was determined that, in order to survive, Kayden would need a heart transplant. When he was less than three months old, the call came that a heart was available and Kayden had his lifesaving transplant.
To keep his body from rejecting the new heart, Kayden was put on a variety of medications. Kayden and his mom, Belinda, said the last 17 years have been relatively uneventful for a heart transplant recipient. Small issues would pop up every so often, but Kayden has been living a normal life.
He's had to be careful of contracting chicken pox, which his mom said could be more severe and cause trouble for a heart patient. He has been hospitalized for the Herpes Simplex Virus, which people usually fight off easily, but for Kayden, it caused major mouth sores that required in-patient treatment. However, he hasn't had any heart rejection complications or major issues.
However, this summer, a large issue arose.
"About ten months ago, I had some back pain. We found a way to lower it, but it never really went away," Kayden said.
Belinda said she originally thought he had appendicitis, a gastrointestinal issue or even heartburn.
"In July, I took him in for his annual heart cath procedure. His pain was getting worse and his stomach was distended. We had an appointment with a GI doctor, but it was a month off," Belinda said. After his heart procedure, the surgeon noted that his stomach area was hard and he wanted to have it looked at while Kayden was still in the Cardiac ICU.
There was a mass in his stomach area. It was biopsied and the results confirmed he had lymphoma, a post-transplant lymphoproliferative disorder, caused by the immunosuppressants he was taking to keep his body from rejecting his heart.
The annual trip to the hospital turned out to be a longer stay than Kayden and Belinda planned. He had a spinal tap, bone marrow tests and a port inserted to prepare for chemotherapy, which started almost immediately.
A month into his cancer journey, Kayden said he is feeling a lot better. The mass in his stomach has already begun to shrink and things are heading in the right direction.
In the meantime, Kayden is keeping busy with online school and his youth group friends have been helping by visiting, including him in events and praying for him.
A year ago, Kayden was new to Trinity.
"I started coming to youth group last summer," said Kayden. He was invited by close family friends and started to meet others through those friends. The relationships he forged have only strengthened over the last year.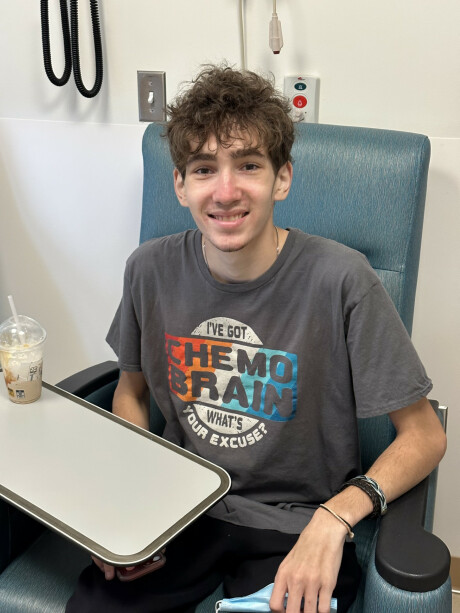 Kayden wasn't raised in the church. He had tried several churches over the years, but none of them stuck.
"I really like the atmosphere and how inviting it is at Trinity. The youth group has become like a family to me. We can relate to each other and connect over our life experiences," said Kayden.
After attending youth group, he also started coming to church at Trinity. Pastor Jeremy said Kayden has been all-in and participated in youth group from his first visit.
"Some kids come to socialize and hang out with their friends, but for Kayden, it seemed to be a place where he would come and interact and engage in our discussions. It was meaningful for him and for those around him," said Pastor Jeremy.
While Trinity became part of Kayden's life, he became part of Trinity as well. With that came new connections and new friends.
Belinda said Pastor Jeremy came up to the hospital when Kayden was first diagnosed with cancer to visit with Kayden, pray with him and show his support. Once he returned home, Pastor Jeremy's sons went to the Strong house to visit with Kayden. These actions meant a lot to the family.
Several weeks ago, the youth group had waterpalooza during one of the meet ups, complete with a waterslide. One of the youth group members used FaceTime to call Kayden and several of the boys took turns skidding down the waterslide with the cell phone so Kayden could experience it from afar.
"It's definitely hard for people to understand what I'm going through. However, they reached out and they wanted to understand. They wanted to get what was going on," said Kayden. "It was really awesome. We had a really strong support group with them when I needed it. It makes being sick and in the hospital easier and more manageable."
Belinda added that they group also sent a card and gift cards as well.
"That connection and support is pretty dynamic when you are going through this," said Belinda.
Due to his compromised immune system, Kayden isn't able to attend many indoor events like youth group, or even church. However, Pastor Jeremy is working on ways to keep him connected, but also keep him safe.
"We are looking at options for having the youth meet outside as much as possible this fall. Thankfully we have the outdoor fire area where we can meet," said Pastor Jeremy. He's also working with Belinda to find options that make attending church possible for Kayden.
Kayden and his mom hope by early 2024, he'll be feeling better and able to rejoin indoor, in-person activities.
Kayden's story is one of a series called Connected. Our school and Early Childhood Center focus their year around the theme Connected, based on Ephesians 4:16: "From him the whole body, joined and held together by every supporting ligament, grows and builds itself up in love, as each part does its work." We are looking for ways in which the Trinity community is Connected. Stay tuned for more stories of connection throughout the year.